Several sources claim that King Charles III has "uninvited" Prince Harry and Meghan Markle to a state celebration that will take place at Buckingham Palace.
The Duke and Duchess of Sussex were reportedly invited to a number of events, according to stories that appeared earlier this week.
Palace authorities apparently intervened and declared that the event would only be accessible to working royals. The two are therefore unlikely to show up for the gathering.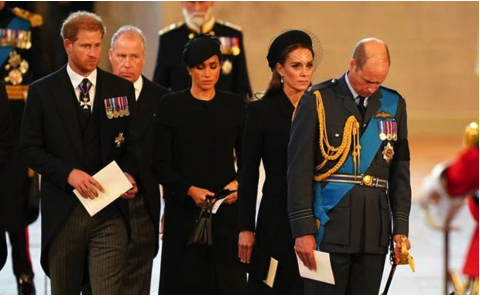 The news came after Prince Harry was granted permission to wear his military uniform alongside his brother, Prince William, and cousins at a vigil for the Queen on Saturday at Westminster Hall. The Queen was honored at the ceremony.
In his first address to the country since his mother, Queen Elizabeth II, died last Friday, the King expressed his respect for the marriage. His mother had passed away, and this was his first public appearance since then.
He said he wanted to "communicate my respect for Harry and Meghan as they continue to create their life overseas" during their discussion.
The new Prince and Princess of Wales, Princess Royal, the Earl and Countess of Wessex, and other members of the royal family will welcome more than 500 heads of state and dignitaries at the VIP event that will be held in the palace.
World leaders are expected to come to London over the weekend in order to attend the Queen's royal burial on Monday, including current US Vice President Joe Biden, Prime Minister Justin Trudeau of Canada, and President Emmanuel Macron of France.