MaeDell Taylor Hawkins first held Zhavia Whitaker in February when she was just seven months old.
Her first great-great-great-grandchild was finally introduced to this 98-year-old matriarch of a sizable family in Kentucky.
Granddaughter Gracie Snow Howell shared a picture of the incident online, and it quickly became popular. Between the offspring of her own daughters and the offspring of their children, MaeDell currently has more than 620 grandkids.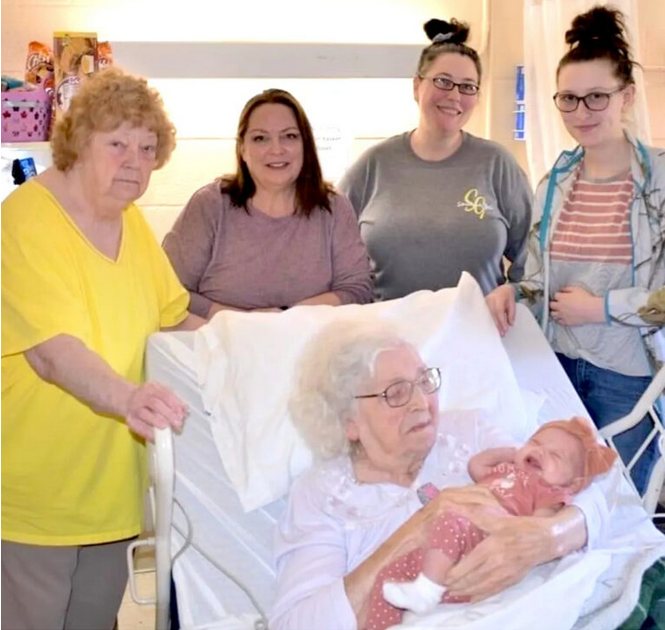 "We thought this was special because it's all girls," Gracie, who appeared alongside
Great-granddaughters of MaeDell Frances Snow, Gracie Snow Howell, Jacqueline Ledford, and Jaisline Wilson are all depicted in the photo. Sheryl Blessing, Hawkins' granddaughter, captured the picture.
MaeDell will turn 99 in July. She married a 50-year-old railroad worker who had 10 children from a previous marriage when she was 16 years old in 1940.
Bill Taylor, her husband, frequently traveled for work. The two still had 13 children together, according to Gracie, and none of them had access to many modern conveniences. There was no washer and dryer in the home, nor was there running water.
"I know she had it hard, but she didn't complain," Gracie told People.
Gracie continued by saying that she had never heard her mother Frances complain about their lack of possessions.
As can be seen in this photo of six generations of women, MaeDell's love and support have undoubtedly contributed to generations of happy, healthy women and children.
"If everything goes well, the baby's doing well, Grandma's doing well – we're all going to meet back in June and get another picture," Gracie told Fox News.
The Kentucky matriarch is said to have 37 great-great-great-grandchildren residing outside of Kentucky, along with 106 grandkids, 222 great-grandchildren, and 234 great-great-grandchildren.
We find it hard to conceive raising so many great kids on such a small budget. Comment below with your thoughts to let us know!