What was meant to be the happiest day of their lives went up in flames around them as the newlywed couple fled their reception venue. Now, the bride is unable to speak as she is so devastated.
Iraqi couple Revan and Haneen Isho were sharing their first dance as husband and wife when the roof came down on their wedding reception, leaving their guests to flee the venue in an attempt to save themselves.
The tragedy has resulted in death and left Haneen too devastated to speak. Now, Revan thinks it is time for him and his new bride to leave their city in search of lasting happiness elsewhere.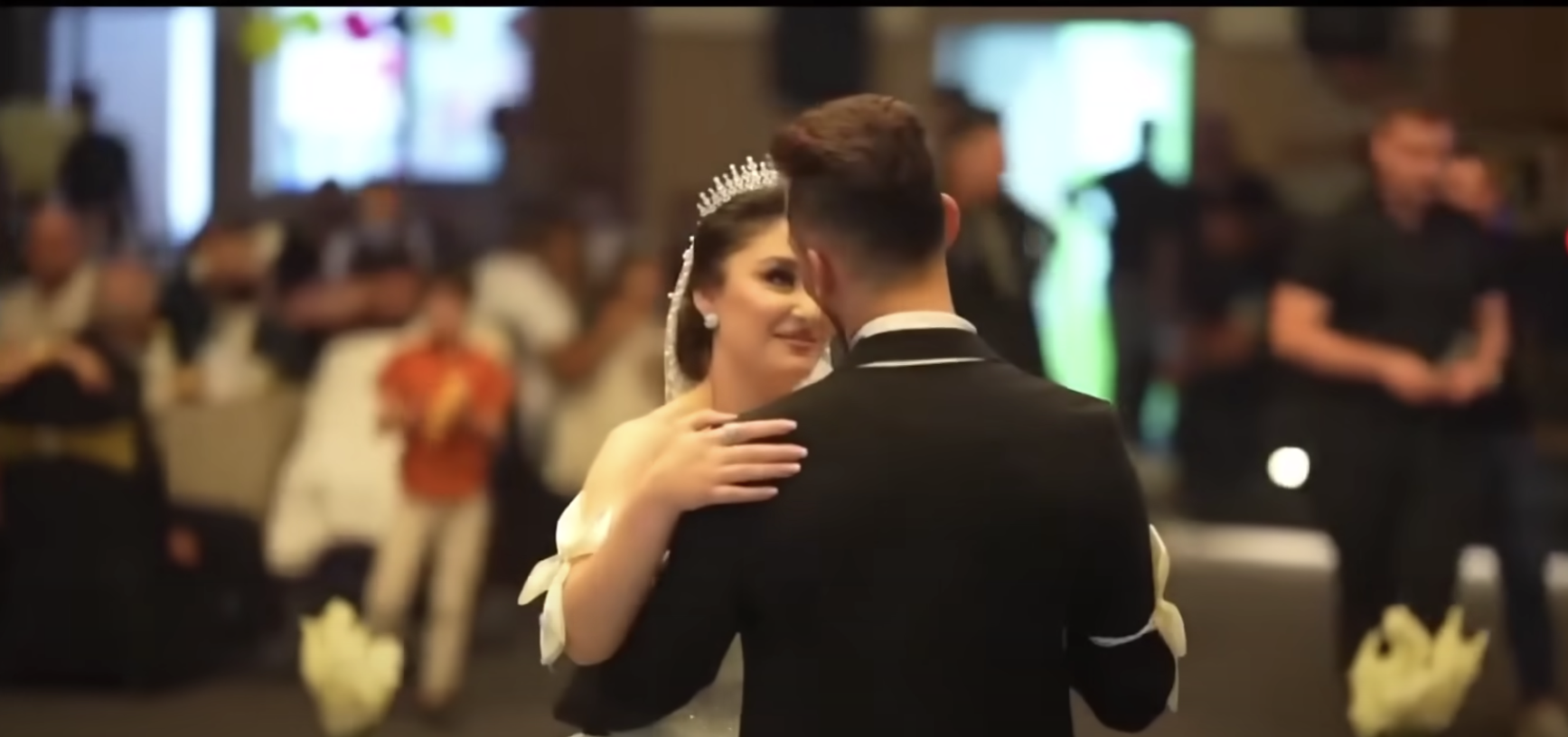 Revan and Hannen Isho dancing on their wedding day | Source: youtube.com/@SkyNews
The couple danced as flares went up around them to celebrate their new union. Just seconds later, startled screams erupted from their guests, and the band stopped playing as people gathered their children and ran.
What Happened At the Wedding?
As Haneen and Revan shared their first dance, they had flares go up around them, which could have been the cause of a fire that caused the roof of their venue to cave in around them and their guests.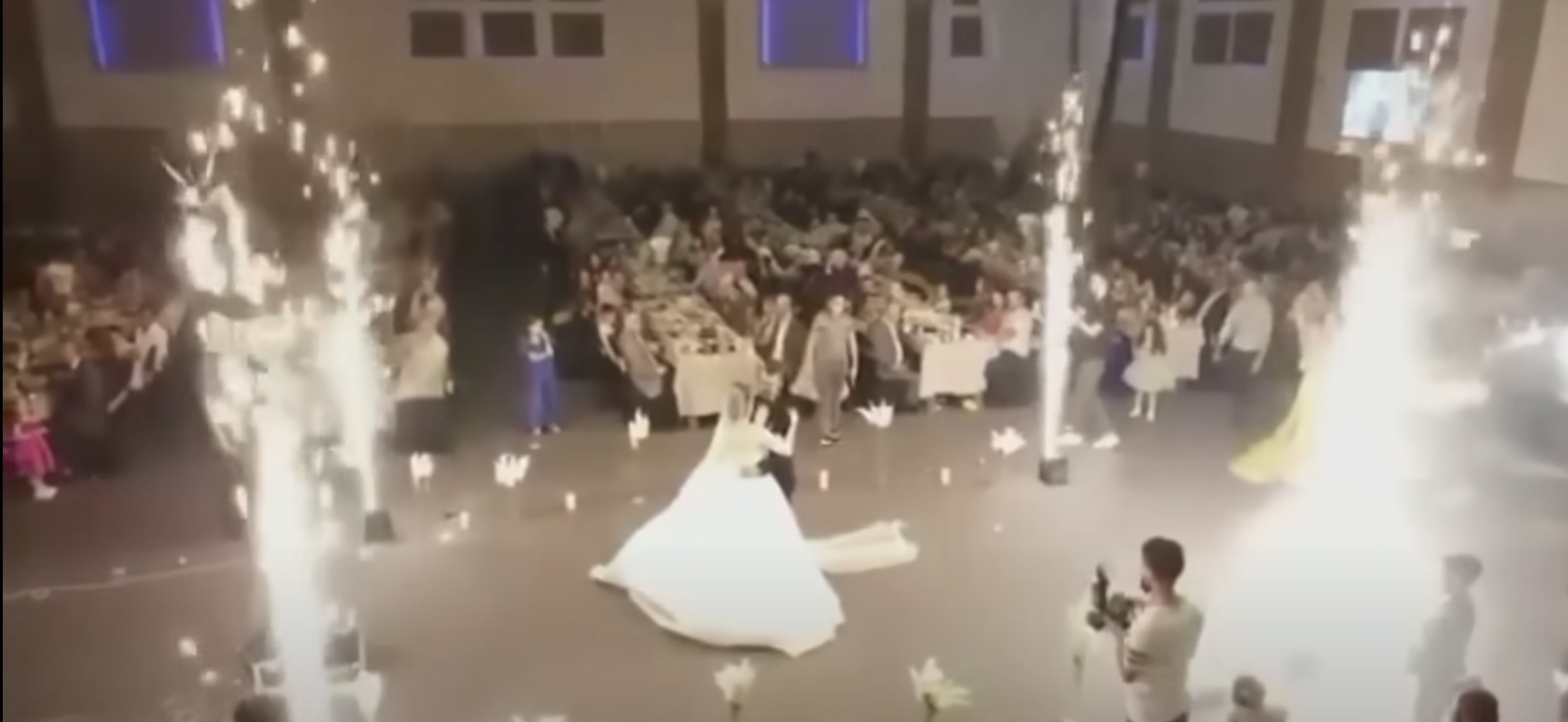 Flares going off as Haneen and Revan Isho danced at their wedding | Source: youtube.com/@SkyNews
As the couple lovingly gazed at each other, the onlooking crowd began screaming and running; Revan grabbed Haneen and rushed her to the kitchen exit at the venue as other guests tried to get out, too.
Revan shared that his new wife had been trampled as their guests tried to escape the encroaching flames, and her legs were injured. While one video angle makes it seem like the flares set the ceiling decorations alight, Revan does not believe this is true.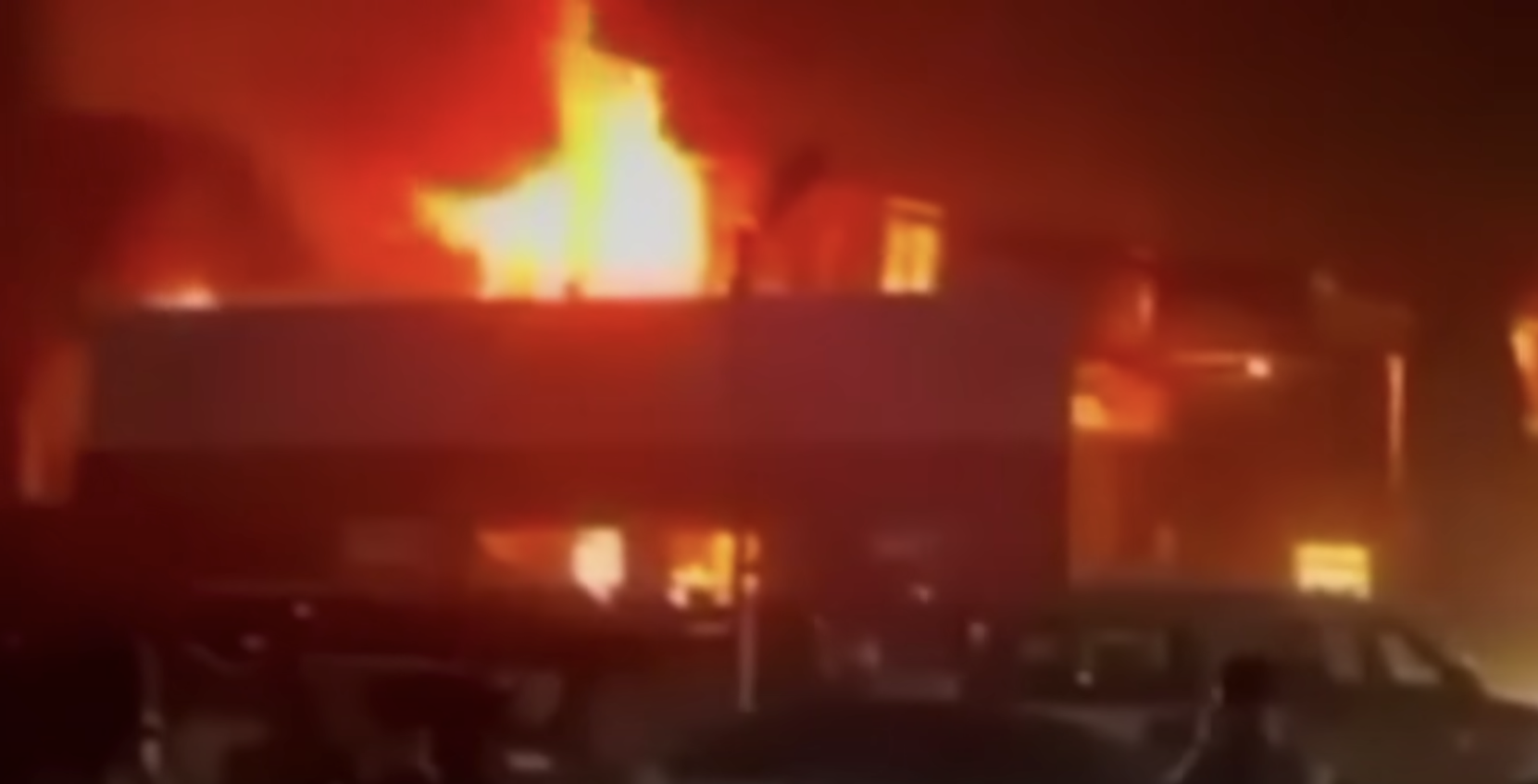 The wedding hall where Revan and Haneen Isho held their reception burning down | Source: youtube.com/@SkyNews
Instead, authorities alluded to the wedding venue being built from cheap materials. Fourteen people, including the venue owner, were arrested concerning the wedding hall burning down and the subsequent deaths.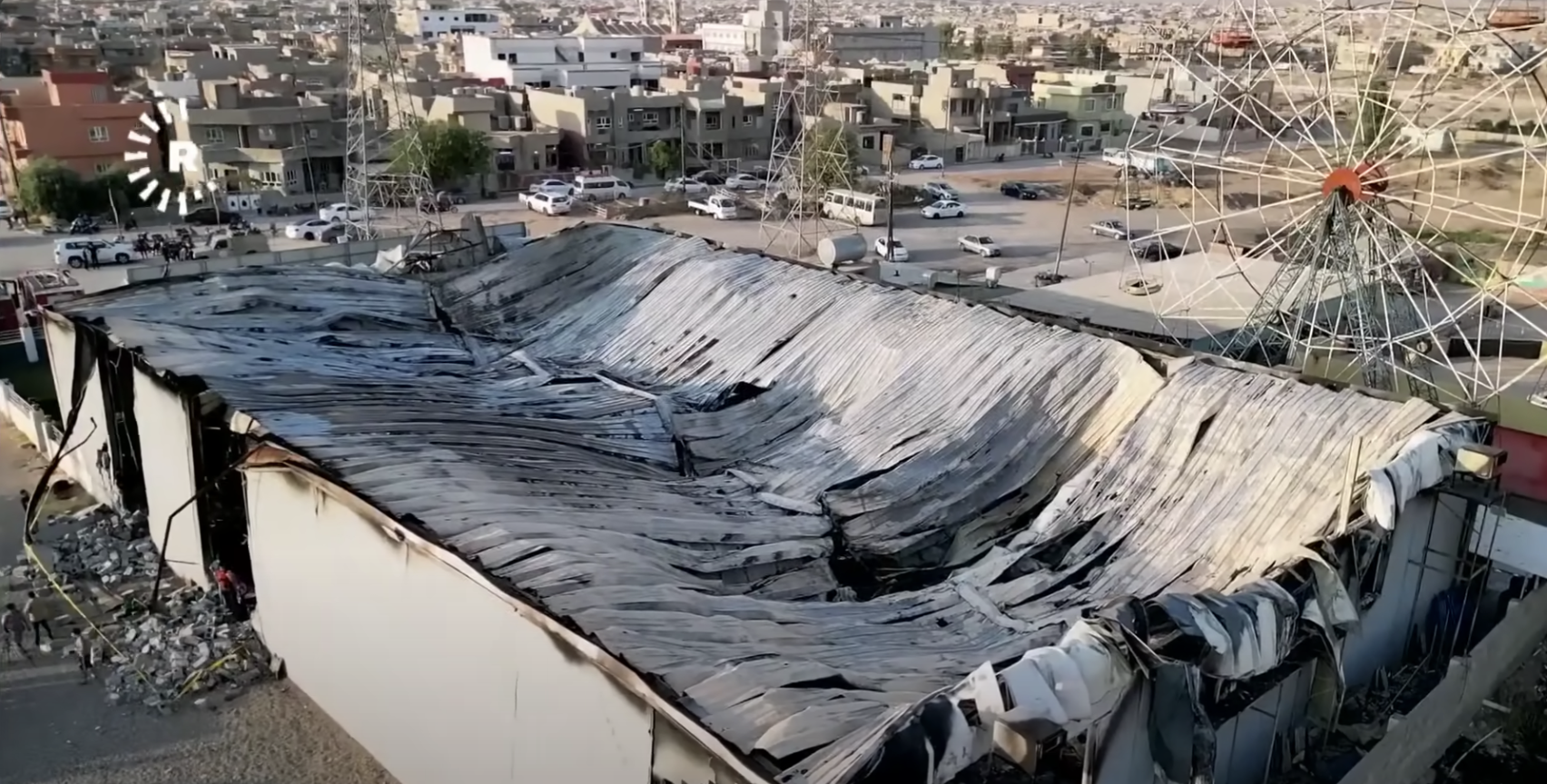 The caved-in roof of Haneen and Revan Isho's wedding venue | Source: youtube.com/@SkyNews
Revan confirmed that his wife had lost her mother, father, and brother. A guest at the wedding said everyone there had lost someone in the tragic fire that engulfed the venue on Revan and Haneen's wedding night.
What Were the Funerals Like?
Over 100 people passed away in the fire, and since then, mass funerals have been held in Hamdaniya. Thousands of people have attended the funerals and mourned the loss of their loved ones.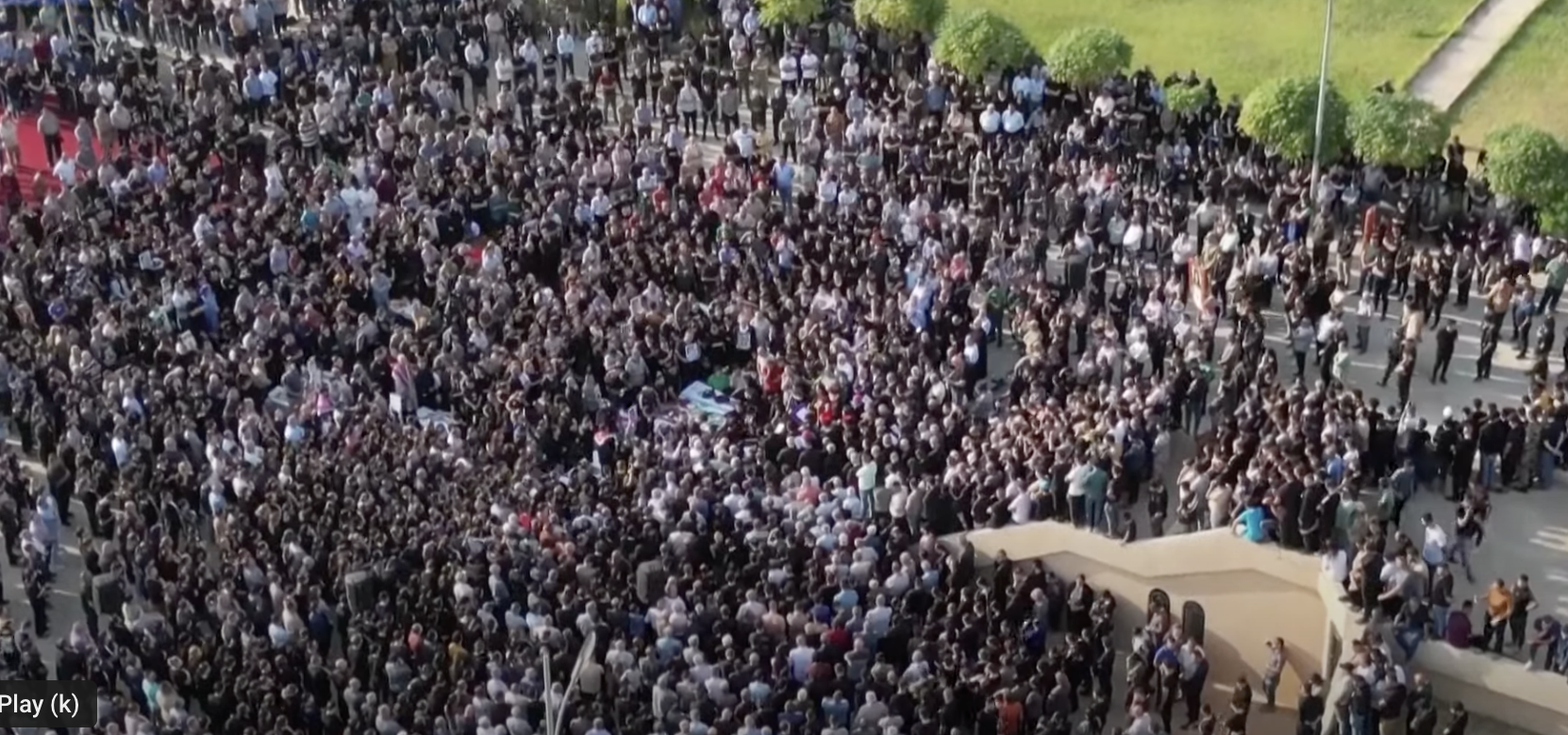 Drone footage of a mass funeral for the wedding guests | Source: youtube.com/@dailymail
Many arrived with pictures of their loved ones, adorned with messages to the deceased and decorated with flowers and hearts. Among the photos were people of all ages, with the youngest only a few years old.
Those who did not pass away but couldn't escape the venue in time have been badly injured by the fire. In the meantime, Revan does not believe that he and his new bride can live in their city anymore.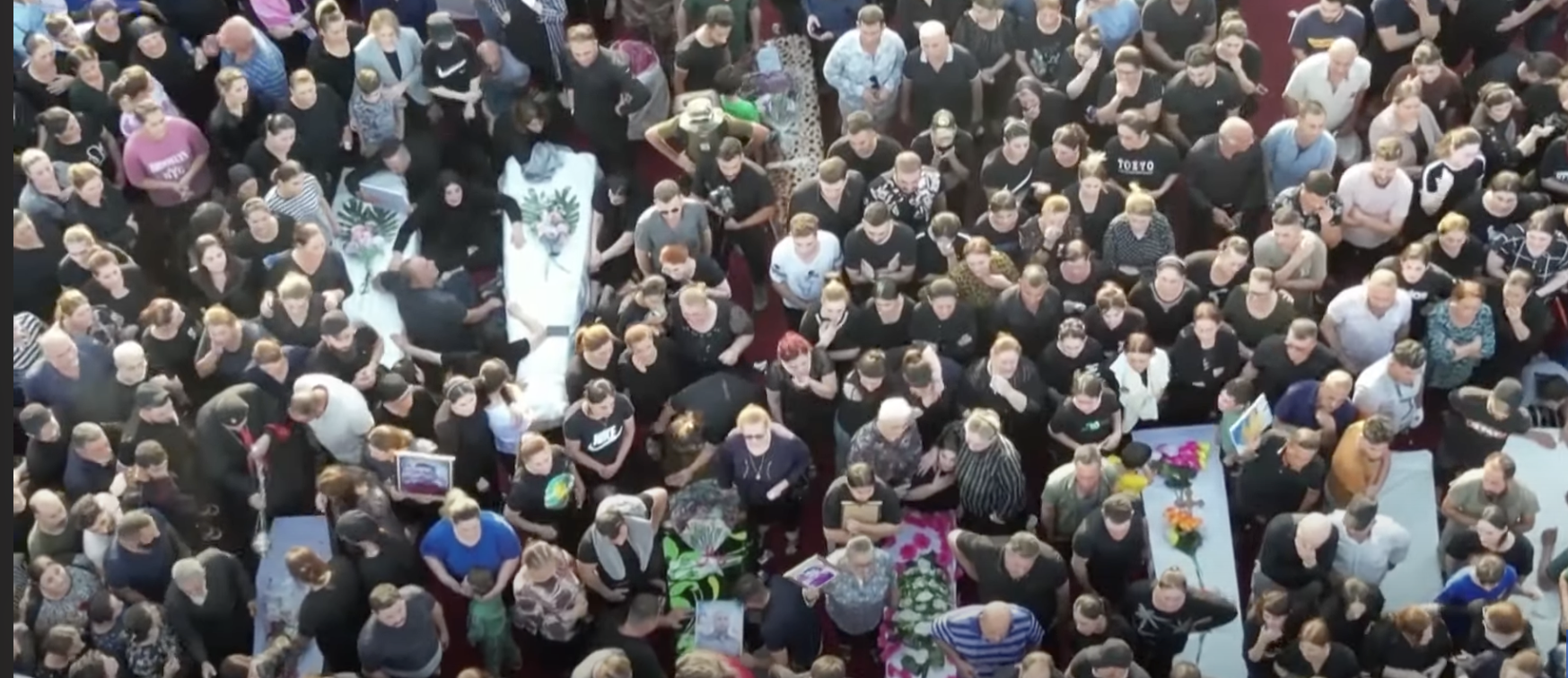 Drone footage of a mass funeral for the wedding guests | Source: youtube.com/@dailymail
The groom said he and Haneen would need to leave because every time they have tried to be happy in their city, something has come along that has ruined their happiness. He then referenced his wife losing her family and being unable to speak.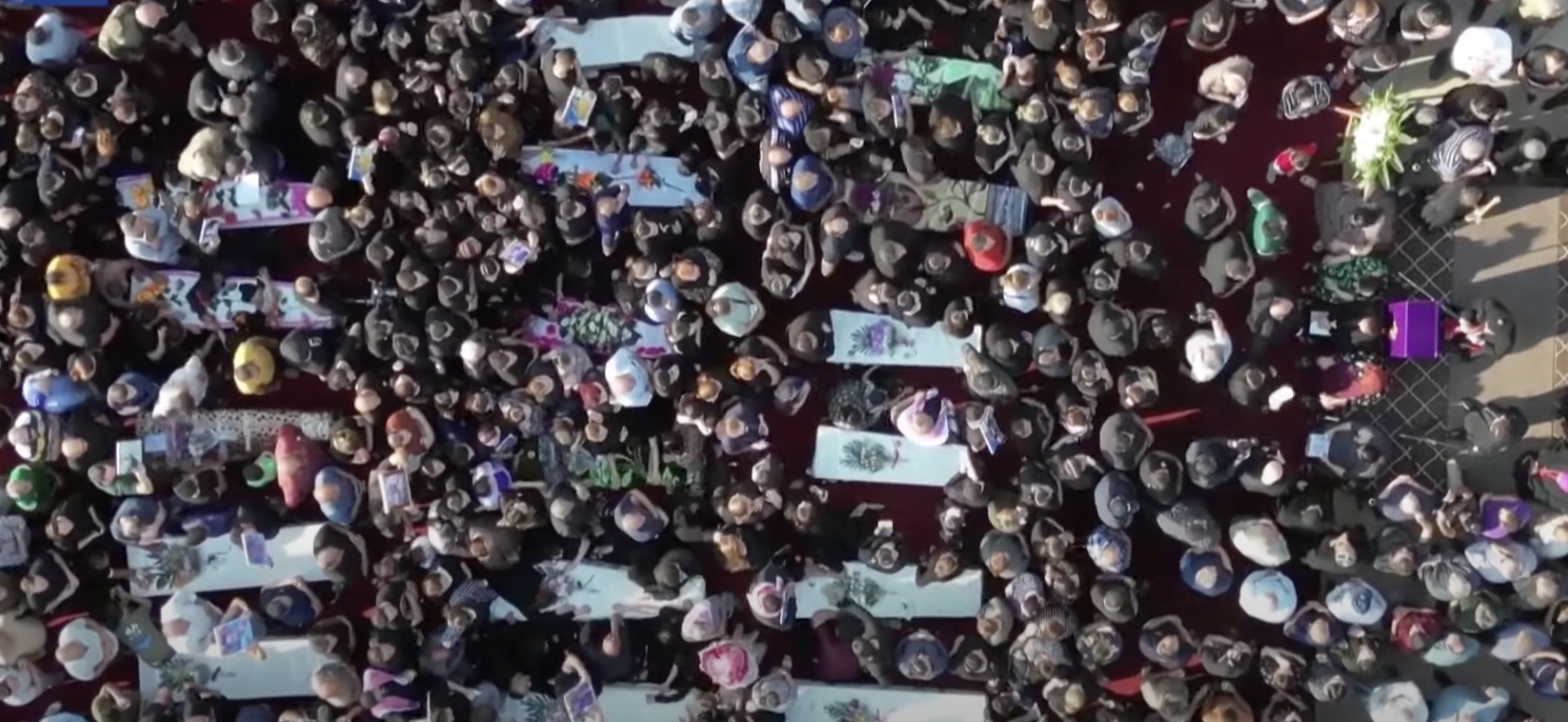 Drone footage of a mass funeral for the wedding guests | Source: youtube.com/@dailymail
As Revan talked to reporters about his feelings surrounding the fire, Haneen sat wordlessly beside him and stared in front of her. Revan lamented:
"It's true, we're sitting in front of you here alive, but inside, we're dead."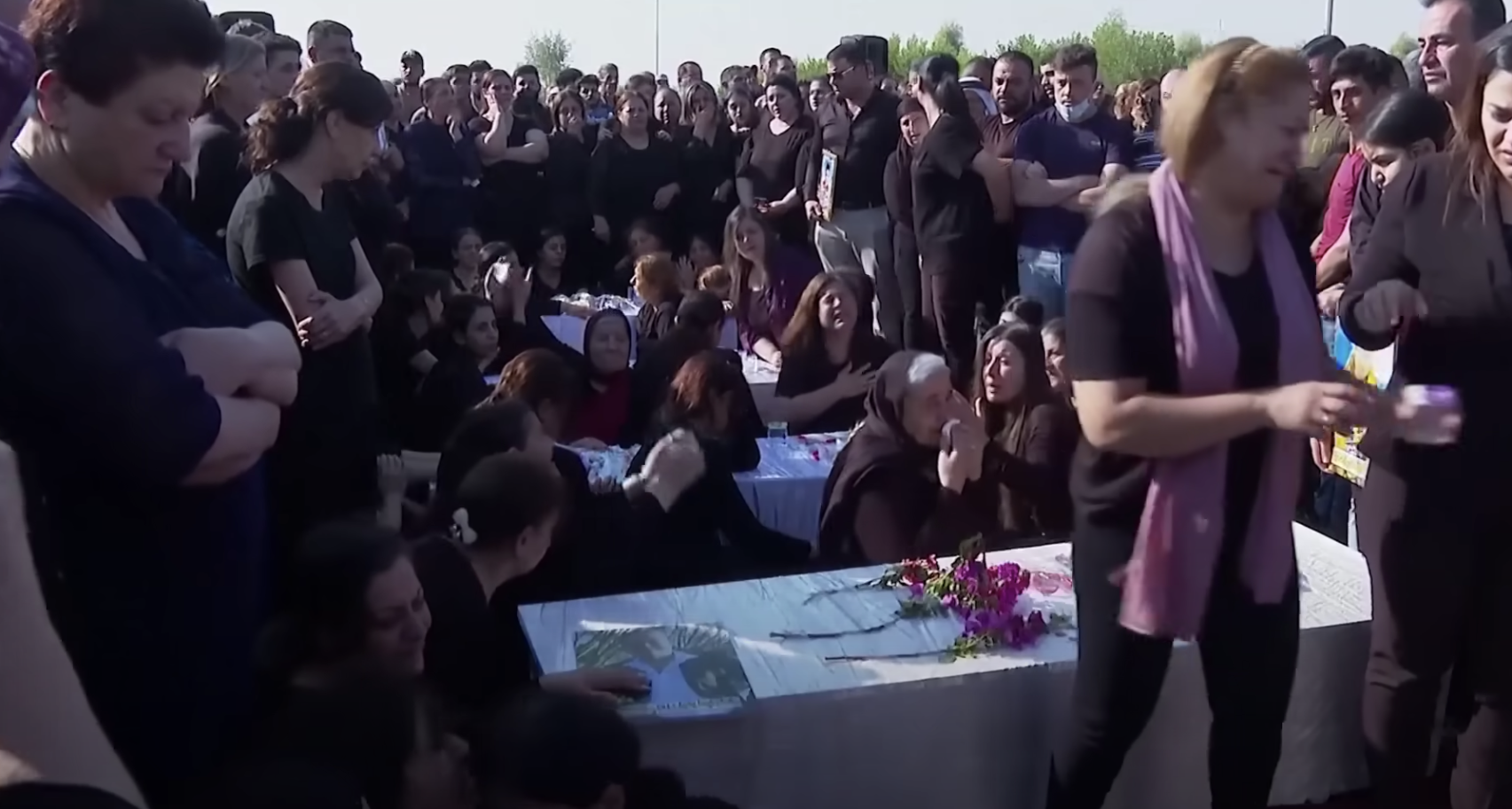 Mourners gathered around coffins at a mass funeral | Source: youtube.com/@SkyNews
Revan, Haneen, and their surviving family members have gone into hiding, as many people think they are responsible for the lives lost in the fire. The tragedy has marred the happiest day of their lives.
A 17-year-old guest at the wedding shared her account as she had only sustained a burn to her hand. She said: "We couldn't see anything. We were suffocating; we didn't know how to get out."
Another guest said that when they saw the roof collapsing, the guests tried to leave the building. However, even those who managed to exit had been "broken" by the inferno.
A man at the wedding lost his son, wife, daughter, and mother in the blaze. One hundred and thirteen people have been confirmed dead following the tragedy, and many more injured. Those injured are recovering in hospitals across Nineveh. We extend our heartfelt condolences to all those who have lost loved ones in the fire.
While this tragedy claimed the lives of hundreds, an Iowa man helped save the lives of four siblings whose house had been engulfed in flames. It was all because he got lost.