Beloved singer Cher lost her mother, Georgia Holt, at the weekend aged 96.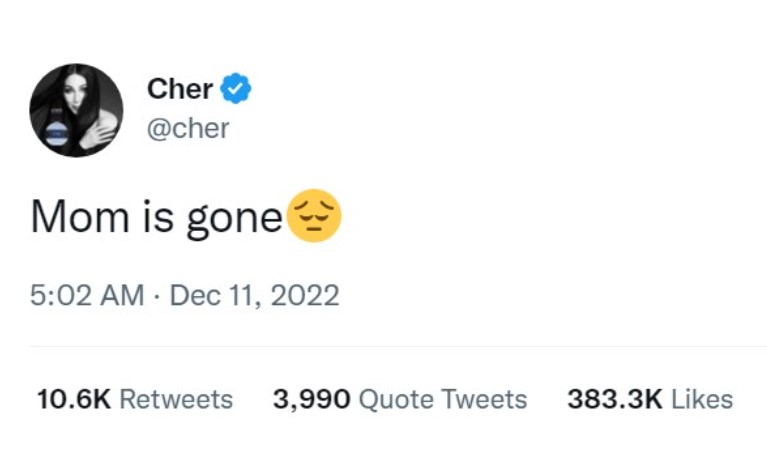 Holt, a singer-songwriter in her own right, as well as actor, producer and model, was arguably best known for her roles in "The Adventures of Ozzie and Harriet" (1955). She also appeared in 1956's "I Love Lucy", as well as flicks such as "Father's Little Dividend" and "Lovely to Look At" in the same decade. In 2013, Holt released her debut album "Honky Tonk Woman", which she had originally recorded back in the '80s.
As per USA Today, Holt was the focus of a Life documentary in 2013, titled "Dear Mom, Love Cher". The hourlong special explored her family's history in interviews with Holt herself, daughters Cher and Georganne LaPiere and Cher's kids, Chaz Bono and Elijah Blue Allman, known professionally as P. Exeter Blue. The idea for the documentary came after Holt discovered tapes of the aforesaid never-before-released album she had recorded in 1980 with Elvis Presley's band. Cher had the tapes remastered and filmed her mother singing and chatting to accompany then. What Cher had seen as a nice project to celebrate her mother's 86th birthday became something much larger and more in-depth. Born in 1926 to a 13-year-old mother and 20-year-old father, Holt sang in Oklahoma saloons as a young girl, before seeking fame as a singer and actress in Hollywood.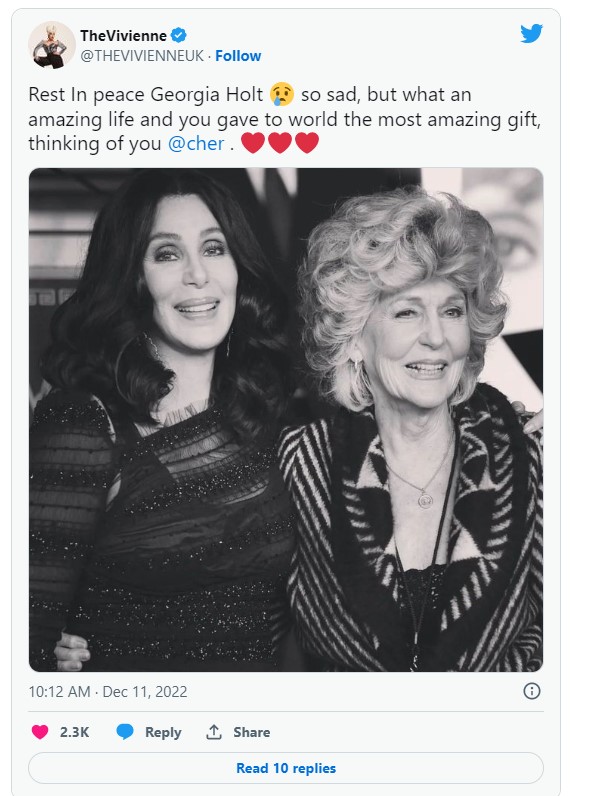 She divorced her first husband, a truck driver named John Sarkisian, shortly after Cher's birth, before placing Cher in a Catholic orphanage. "I heard the abortion story when I was a teenager," Cher said in "Dear Mom" in 2013. "The orphanage story has been a touchy one for my mom her whole life, and she didn't want to talk about it. I said, 'Mom, why didn't you just march in and take me?' She said, 'I didn't have the power. I didn't have any money or a job, and the church was so strong. I'd go see you every day and you'd be crying. You don't know what it was like.' It was harder for women then."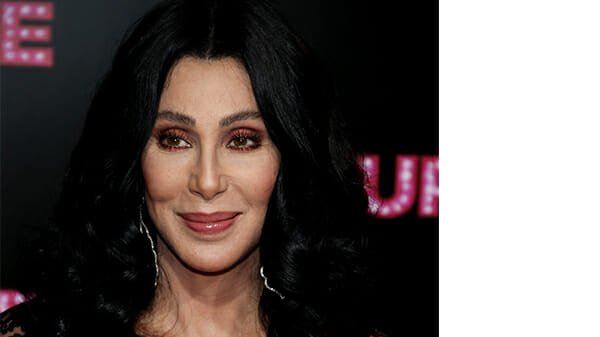 As for Cher, the loss of her mother comes at a time when the rest of her life seems to be going so well. Only last month did she set social media alight by confirming that she's now in a relationship with a man some 36-years younger than herself.
That man is Alexander Edwards, a 36-year-old music producer. Cher revealed that she'd already introduced Edwards to the rest of her family, adding that "love doesn't know math!". Her comment was presumably made in reference to those questioning the large age gap between the two new lovebirds (Cher is 76, while her boyfriend is less than half that at 36). According to Cher herself, she and Edwards met during Paris Fashion Week in October. We'll not claim to be budding geniuses in mathematics, but that puts their relationship firmly yet in Honeymoon territory. Even so, there were plenty of fans who expressed their delight at seeing Cher so happy. In reply to those fans who were more protective of her, perhaps viewing Edwards as a potential threat, Cher said: "As we All Know …I WASN'T BORN YESTERDAY,& What I Know For Sure…There Are No Guarantees. Anytime you make a Choice You Take a Chance. I've Always Taken Chances…It's WHO I Am." The 76-year-old also directly spoke on the age-gap facing the couple, stating: "Love doesn't know math, it sees [red heart emojis]. Rinpoche told me 'some ppl [sic] meet, others 'recognise'."
Indeed, Cher's been through enough that one would assume she's more than capable of spotting red flags if they were there to be seen. A veritable star since the 1960s, the singer, actress and television personality first found fame alongside husband Sonny Bono, and quickly ascended to the dizzying heights at the very top of the music industry.
As for Edwards, though not possessive of a name and brand equal to the legendary Cher's, he's enjoyed a fair bit of success in the music industry thus far. Just 36 years old, he is the vice president of A&R at the famous record label which boasts a roster of musicians including Rihanna, Nas, Public Enemy and Justin Bieber.
Losing a mother is among the hardest things any of us will ever have to do. All of our thoughts and prayers go out to Cher at this difficult time – we hope she can find the strength to pull through. Rest in peace, Georgia Holt!