Dolly Parton is committed to her aesthetic. In a recent interview with RuPaul, the two stars talked about the extensive time and energy that goes into maintaining their carefully crafted looks. For Parton, she's always dolled up in glittering outfits complete with high heels and a wig. For RuPaul, it's the same when he's in drag, but he also is fashion-forward in his out-of-drag looks.
Keep scrolling to see her no makeup image.
Both stars have created carefully crafted, stylish, and unique personas, but RuPaul pointed out to the "Jolene" singer that he gets out of drag at the end of the day. Parton, on the other hand, explained why her elaborate outfits are a 24/7 kind of thing.
Dolly Parton explains why she's always dolled up
The RuPaul's Drag Race host interviewed Parton for a Marie Claire. In the discussion, they chatted about the singer's home life, Parton's goddaughter Miley Cyrus, and more. But one part of the interview had the internet in stitches because of the shade Parton threw at RuPaul.
After detailing her morning routine (for which she wakes up at 3 a.m. to start!), the Emmy-winning host teased the country star asking if she wears high heels while making breakfast for herself and her husband, Carl Dean.
"I always wear my high heels. Don't you?" Parton asked the drag queen.
"No. That's the thing: There are similarities in what we do, but I take all that stuff off," RuPaul replied. And here came Parton's reasoning for always staying glammed up.
"Well, I don't. I have to always stay ready—street ready, I always say," she said. "I have to keep my makeup on and keep my hair done. Like, when I'm in L.A.—I've told you about it—if it's going to earthquake, if we get an earthquake, I'm not running out in the street looking like you look now."
Dolly Parton is 'comfortable' with her highly glamorous image
Dolly! The shade! Of course, she likely meant zero shade with the comment. The Grammy winner is too sweet and loving for that. But she did further explain why she's always dressed to the nines.
"I have to be ambulance-ready at all times, if I get sick or something," she said.
The 74-year-old hasn't indicated that she is sick and thinks she'll need an ambulance anytime soon. She seemingly meant that should an emergency ever happen, she doesn't want her fans to see her out of her carefully crafted image. And the star noted that it's not about being self-conscious about her looks. She simply likes being all dolled up.
"But I actually do wear high heels most of the time," Parton continued. "They're not always as high as the ones I wear for show. But I'm little. I'm short. And I have to wear heels in order to reach my cabinets. But I always enjoy wearing the shoes too, and I just feel more like me. But I can come down, though. I'm comfortable in my own skin; I'm comfortable with my image. I dress for myself more than I do for somebody else."
You've got to respect Parton's commitment to the fact that if she's going to be seen, she's going to look good.
But finally here is the image that was released of Dolly without makeup.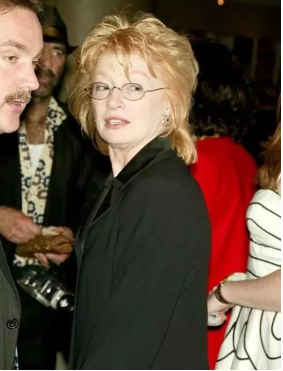 Do you think she still looks good? Let us know in the comments