The Ribeiro family recently found themselves in the spotlight after a tragic accident that left their 4-year-old daughter, Ava, hurt.
The Dancing with the Stars presenter revealed that their young daughter's recuperation process is anticipated to take several months.
With Alfonso turning 52 this year, the family is going through a difficult time, but their main priority is still helping Ava get well.
Reportedly, the young girl, who had fallen off her sit-down scooter the day before her fourth birthday, required emergency surgery on Friday, May 12 to avoid any potential scarring.
By posting images of his daughter's wounds, which included severe burns and bruises all over her right elbow, shoulder, and eye, Alfonso expressed his pride in Ava's bravery and thanked the medical staff at Kare MD Skin Health.
In his Instagram post, the Fresh Prince of Bel-Air actor stated, "Not the kind of day you want the day before turning 4." I would like to express my sincere gratitude to [Kare MD Skin Health] for the emergency care and procedure that will hopefully reduce the risk of [scarring]. I'm so proud of my little girl for her bravery throughout the procedure.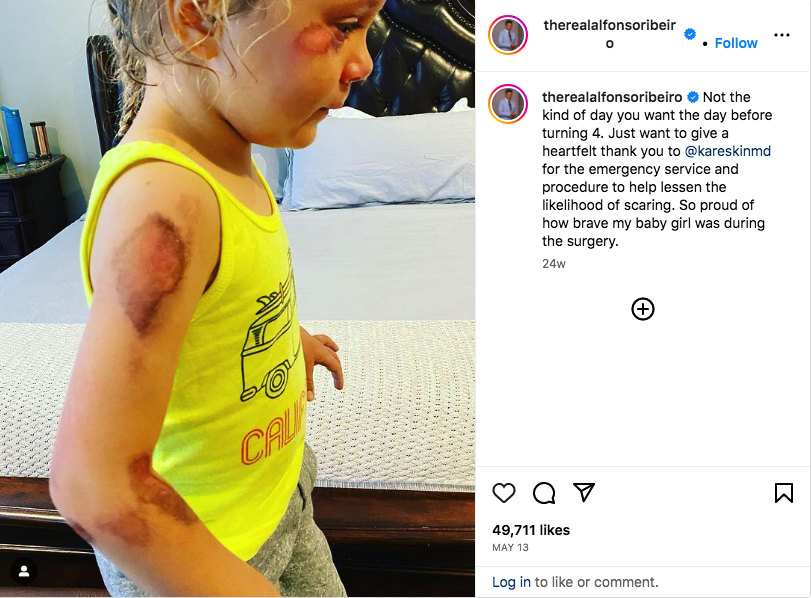 Meanwhile, Ava's mother Angela elaborated on the details surrounding her daughter's accident, saying that earlier in the morning she had a strong suspicion that Ava would be in danger.
"I announced to the fam, kids, sitter & friends helping out getting ready for Ava's birthday party that 'we are not doing anything crazy or dangerous today that could potentially end up with an ER visit.' I literally made everyone lock eyes to me when I said these words."
However, it's evident that people didn't take Angela's warning seriously enough because Ava fell off her scooter shortly after she made her announcement.
Following the incident, Ava was taken to Kare MD Skin Health and Dr. Raffy after hours in an attempt to reduce the possibility that she would develop scars later on.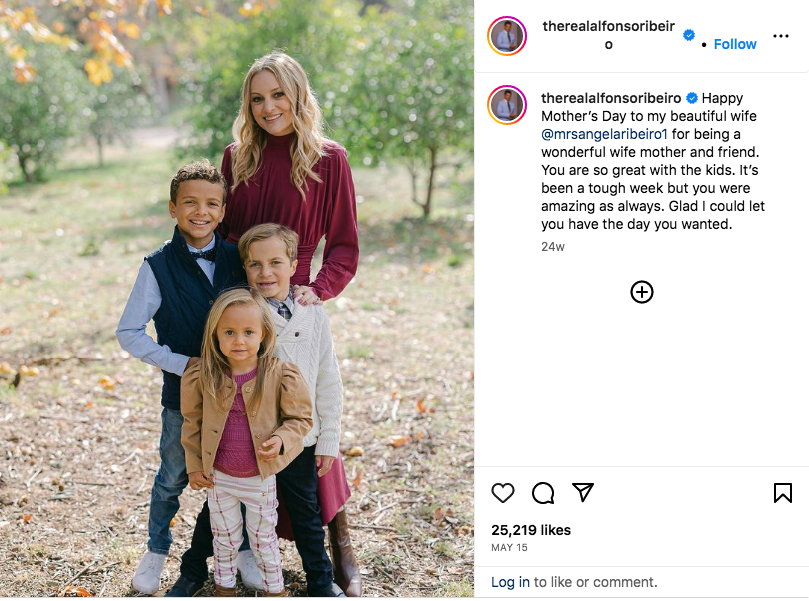 "Not a fun way to spend your last day as a 3-year old, but she was a trooper," Angela added.
"Giving this sweet girl some extra cuddles tonight."
A few days later, Angela posted images of her daughter with facial and arm wounds. After that, Alfonso appeared on Live With Kelly and Mark and summarized the events.
"So, it was a very stressful weekend," the dad said. He added, "She fell and had basically road rash on her face and arm, and so they had to scalpel off all the skin."
Despite having a scary accident that required emergency surgery the day before, the little girl was in good spirits for her 4th birthday party the next day. "Happy Birthday to my sweet Ava Sue. As some of you know Ava had a very difficult week," Alfonso wrote on Instagram. "I'm so proud of how well she handled everything. She's so brave strong and creative. I love everything about my little girl."
On May 12, the staff at Kare MD Skin Health wished Ava a happy birthday on their own Instagram page.
"Thank you for the very kind words [Alfonso]. We are so honored to take care of your precious princess Ava. Best wishes for a speedy recovery," they wrote in the caption.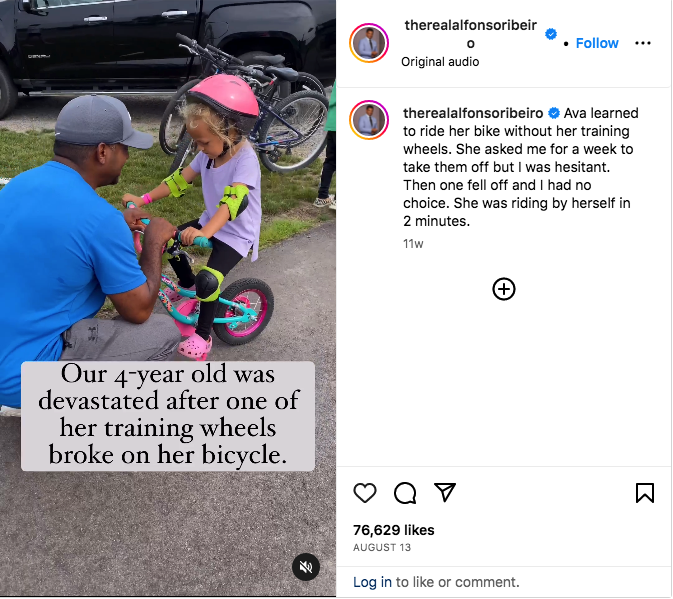 I think we can all agree that when one of our babies gets hurt, it's always terrifying. I'm glad Alfonso and Angela's child is recovering nicely.
As of right now, Ava appears to be healing nicely. Based on the most recent updates posted on Alfonso's Instagram, it seems that she is fully recovered. It's comforting to see!
Do you have any memories of your child having an unfortunate accident? How did you feel at the time?
Share this article on Facebook if you'd do absolutely anything to ensure the good health of your son or daughter forevermore.