Jerry Springer, a television legend who hosted his own tabloid talk show that became one of the network's biggest hits, passed away on Thursday at the age of 79.
Just a few weeks before he passed away, Springer posted one of his final photos to social media along with a heartbreaking promise.
Just weeks before he died, Springer shared a final social media post while attending the Rough Riders St. Patrick's Parade in Tampa, Florida.
"Jerry's ability to connect with people was at the heart of his success in everything he tried whether that was politics, broadcasting or just joking with people on the street who wanted a photo or a word," Jene Galvin, a family spokesperson and friend of Springer's, said in a statement. "He's irreplaceable and his loss hurts immensely, but memories of his intellect, heart and humor will live on."
Springer writes in the post that he had a "great time" and added, "I'll be back."
It's heartbreaking to see a picture of Springer just six weeks before his passing since it shows him in such high spirits and as though he believes he will live to see another parade the following year.
Many fans used the image as their final personal social media post from Springer to offer their condolences.
"Thank you for decades of entertainment," one user wrote.
"He basically raised me on sick days and days I didn't feel like going to school," another said.
One of the wildest and most contentious shows on television, Jerry Springer featured eccentric guests, troubled families, and sensationalized subjects including infidelity and weird obsessions.
It's apparent that many people have nostalgia for the show, despite the fact that it was ridiculed by reviewers as "trash TV" and once listed as the worst program of all time by TV Guide.
The Jerry Springer Show Instagram shared a tribute to the late host with Springer's famous sign-off catchphrase: "Take care of yourself and each other."
Jerry Springer cause of death
Springer passed away quietly at home following a "brief illness," which was pancreatic cancer, according to a family spokesperson. He was 79.
Close friend and family representative Jene Galvin said that NBC News had stated that pancreatic cancer was the cause of Springer's passing.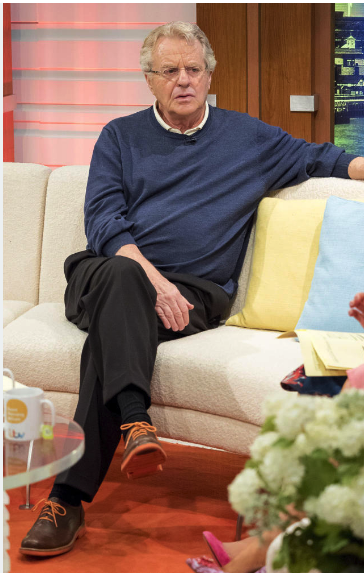 Rabbi Sandford Kopnick of The Valley Temple in Cincinnati claimed that Springer's illness struck him abruptly and that he died from cancer, despite not having had a diagnosis for the condition for a very long time.
Jerry Springer, a great TV legend unlike any other, may you rest in peace.
Remember to "take care of yourself and each other" and please spread this story in Jerry Springer's honor.