Sophia Loren and her beloved husband, Carlo Ponti, were blessed with two children despite doctors telling her she could not bear them. The couple was married for four decades until his death.
Loren spoke candidly about her romance with Ponti in a September 2019 interview. When asked about the secret to the longevity of their relationship, she said there was none.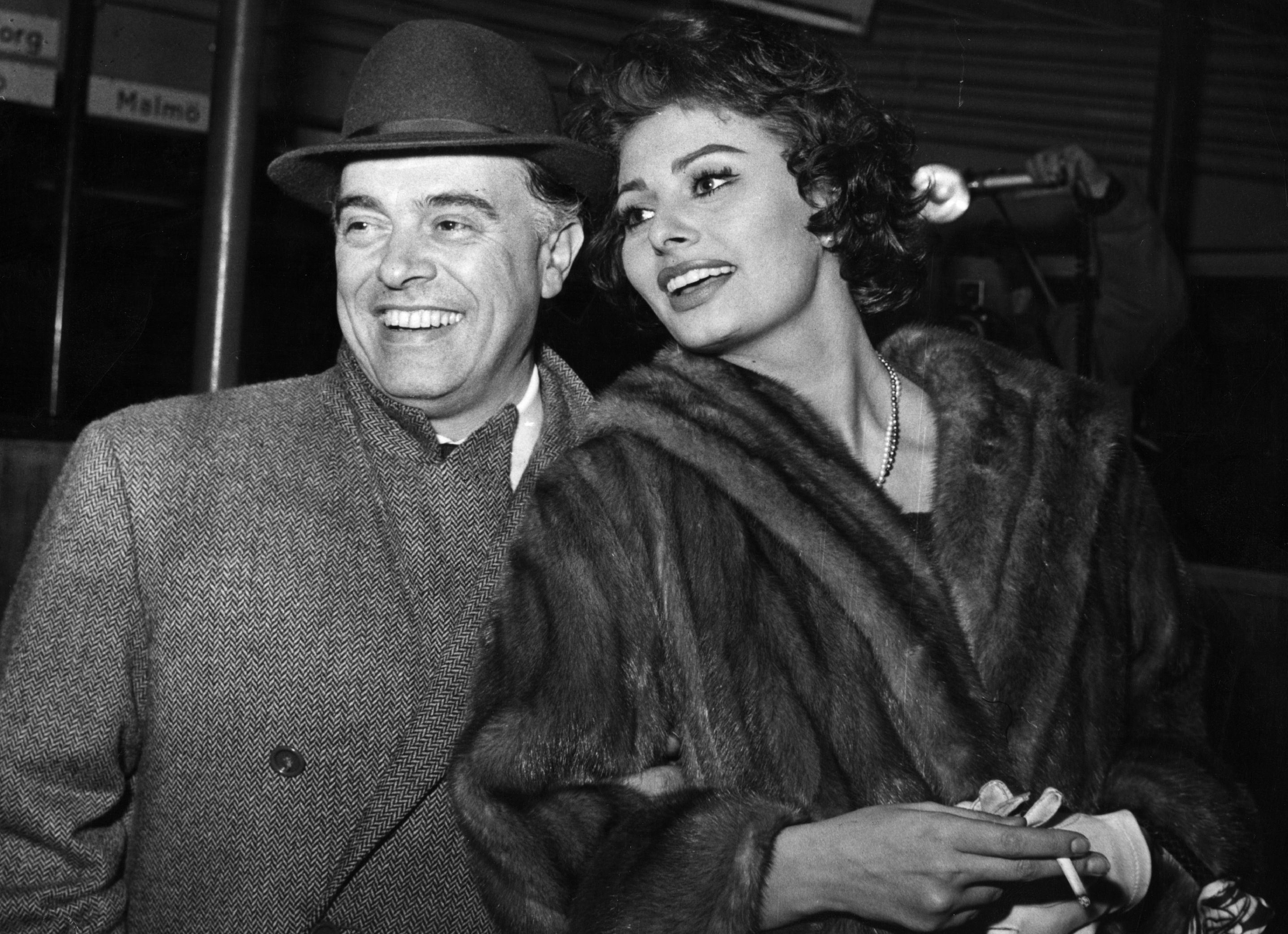 "It was love at first sight for both of us. We met at a beauty contest in Rome when I was 16, and he was on the jury," the Italian actress explained. Loren divulged that the Italian film producer saw her sitting with friends and sent a note asking her to join the competition.
She did and finished second in the contest. Loren shared that her relationship with Ponti began in a "friendly" way and that they did not start a romantic relationship until she was 19. "We genuinely loved each other," she admitted.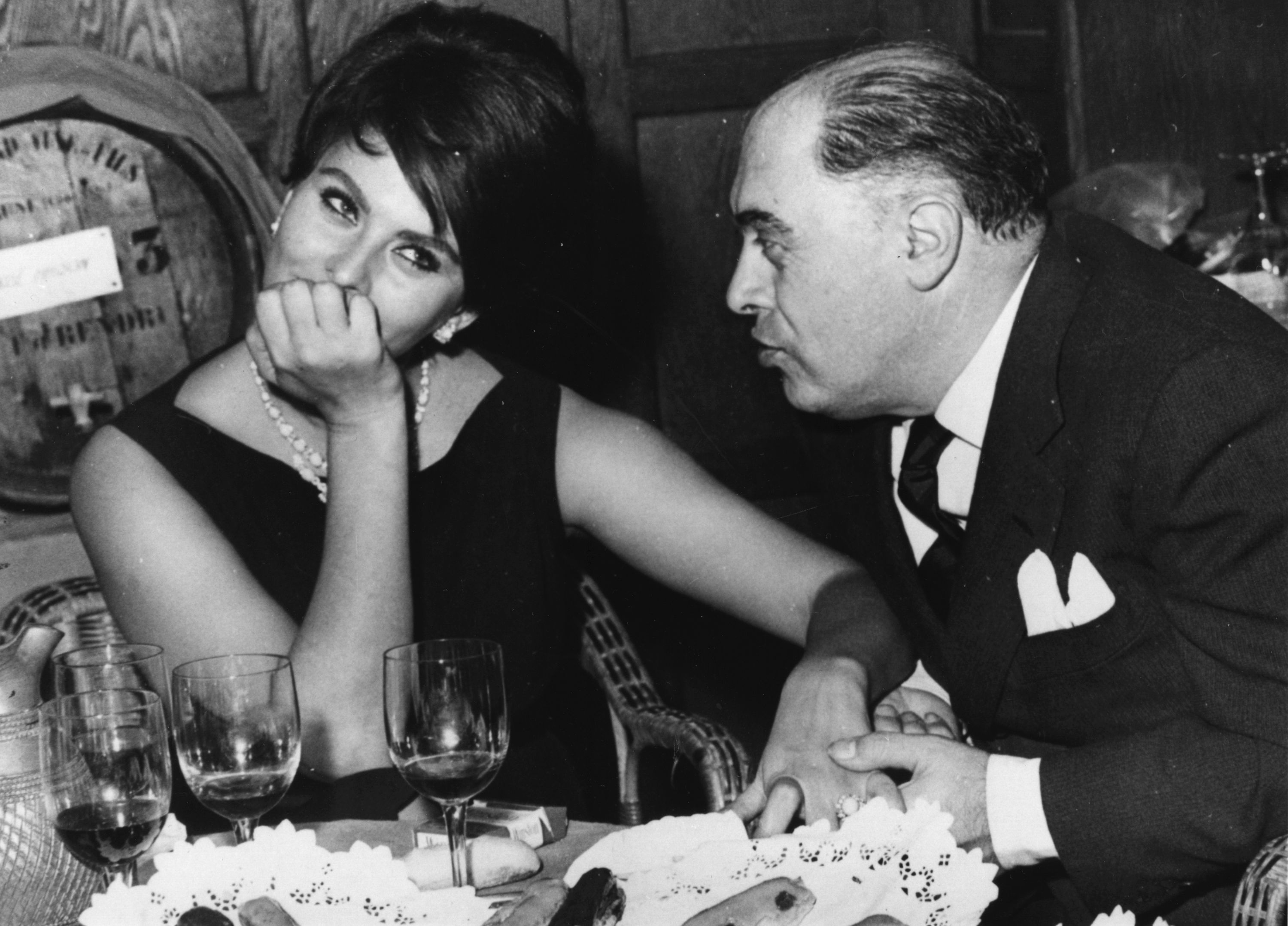 When asked whether she often fell in love on set during an October 2017 interview, Loren disclosed, "Maybe little infatuations, but falling in love is quite another thing. Perhaps in life, you fall in love only once."
Asked when she realized her life would become extraordinary, Loren said she believes rewards are deserved. "Every reward is the fruit of discipline, of dedication, and of sacrifices. And of stubbornness," the Hollywood star stated. For example, she revealed:
"An Italian doctor told me that I could not have children. I always disagreed, and in the end, he finally was proved wrong. I always disagreed."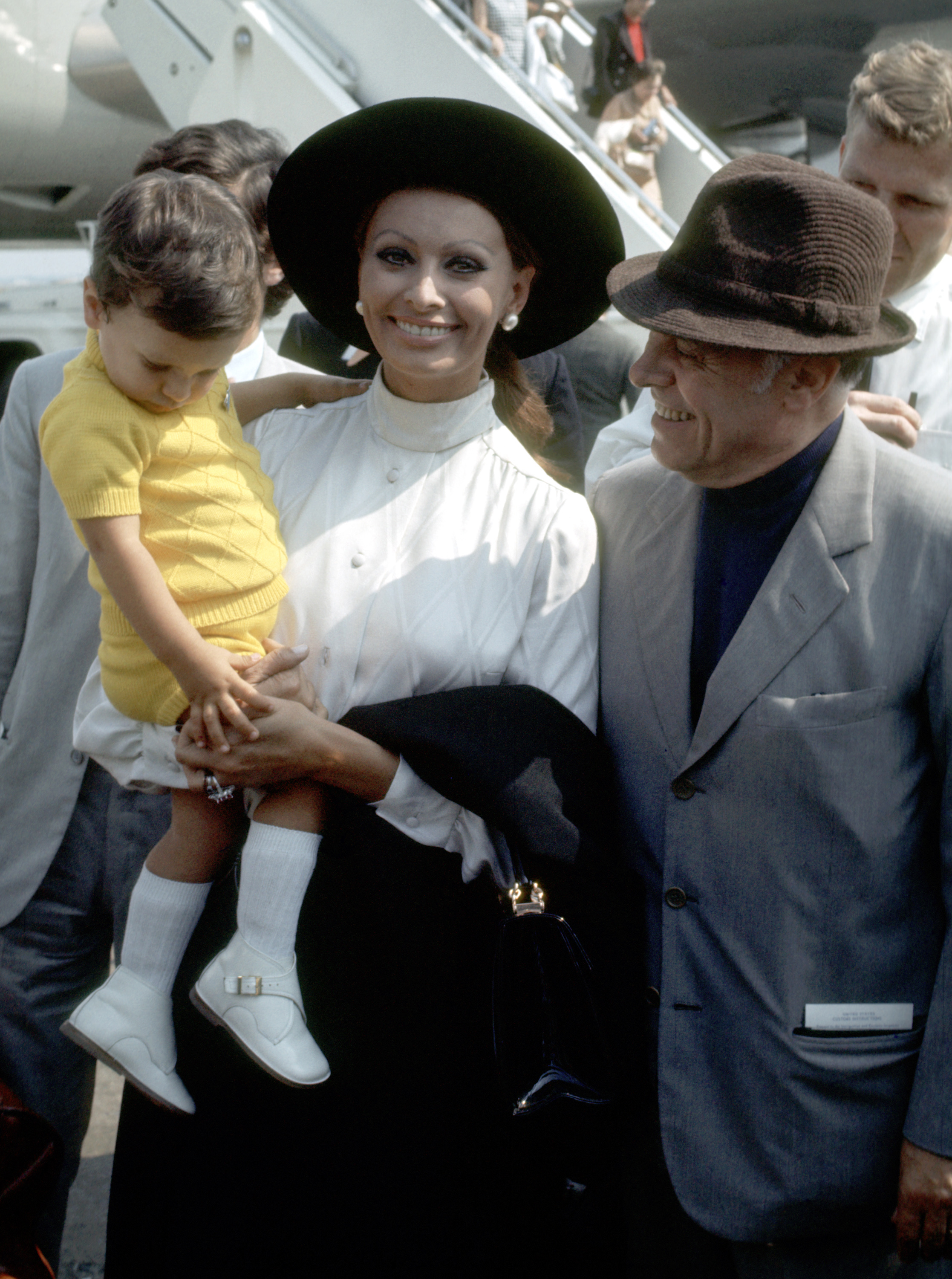 Loren and Ponti married in April 1966, and they started a family two years later. The couple welcomed their eldest child, Carlo Ponti Jr. in December 1968, and their youngest son, Edoardo Ponti, arrived five years later in January 1973.
The lovebirds were married for 41 years until Ponti's death in January 2007 in Geneva, Switzerland. Loren never remarried and remains a widow to date.
Inside Loren's Life in Her 80s with Kids & Grandkids
Loren has since chosen to live life away from the limelight, having settled in Geneva, her favorite place and where her children were born. In addition to her kids, she is a grandmother of four whom she described as the "most beautiful grandchildren" that she had ever seen in her entire life.
Loren's eldest son, Carlo Jr., has two children with his longtime wife, Andrea Meszaros Ponti, whom he wed in 2004. Her second child, Edoardo, is also a parent of two to Lucia and Leonardo, whom he shares with his spouse, "NCIS" alum Sasha Alexander. They were married in 2007.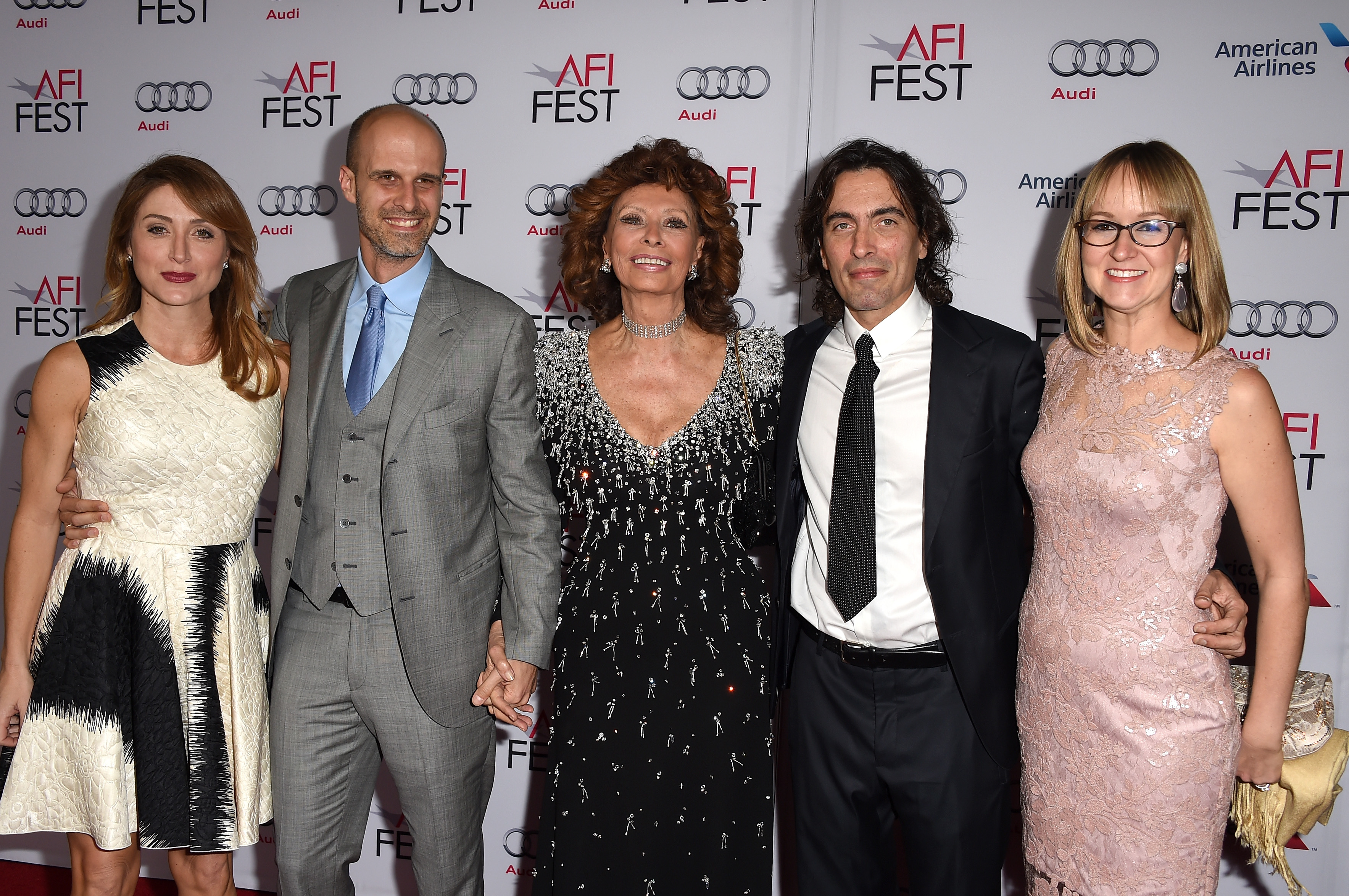 When asked how she lives her life nowadays, the Oscar winner shared she tries to do something positive daily, not only for herself but for those around her. She keeps it simple by relishing the good news her kids share with her about their lives.
"The beauty of my grandchildren fills me with joy, although they are far away in California," said Loren in 2019. Asked about the lessons she would want them and her children to know about her life, the movie icon divulged: "That they are what makes my life worthwhile." She cherishes family above all else.
The proud, loving mother of two said her sons are gifted, respectful of their parents, and possess good principles. They turned out well, according to her.
Loren has also spoken candidly about growing old, saying she believes being happy is the key to gracefully aging. "Life is life. You should enjoy your time here, and aging is part of that time. So, enjoy it, too," she said.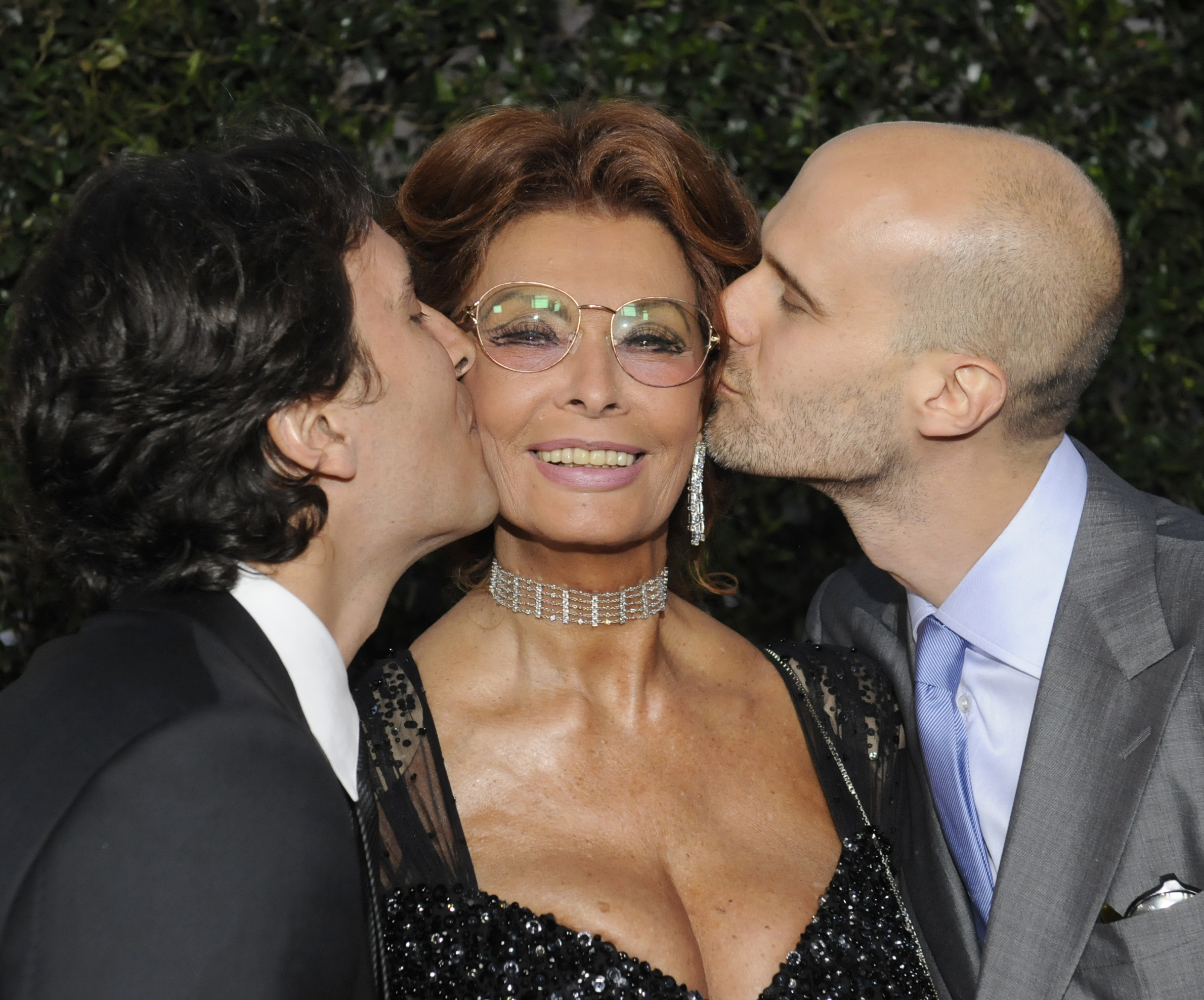 Carlo Ponti Jr. and Edoardo Ponti pictured kissing their mother Sophia Loren at the AMPAS Tribute To Sophia Loren at AMPAS Samuel Goldwyn Theater on May 4, 2011 in Beverly Hills, California | Source: Getty Images
The "Sunflower" star is reportedly surrounded by longtime friends who see her and take good care of her while living away from her kids and their families.
The family matriarch, who said she is happy and lives a great life, keeps herself busy with gardening, reading, and going on long walks. Loren expressed in March 2016, "I live for my family."
Fans Are Amazed by Loren's Appearance at 88 in New Family Photo
Loren recently made a rare appearance in a family photo while attending her daughter-in-law Alexander's 50th birthday celebration. The actress posted several images from her special day and wrote, "Geneva in the spring."
One shot featured her famous mother-in-law, who donned a blue suit paired with a white blouse underneath, happily posing alongside her and her two sons.


Fans were delighted to see Loren, 88, in the snap, as some have wondered about her because she lives a low-key life now. They raved about her in the comments section.
"Great photos. When I saw the first one and saw where you were, I was about to ask how Mama was. She looks fantastic! Brava Sophia!" said one person. Another agreed, "Sophia looks good."



One Instagram user exclaimed, "OMG! Sophia looks as stunning as ever. That woman is a Classic Beauty!" Meanwhile, someone complimented Alexander, saying, "Sophia LOREN for a mother-in-law!!! Come ON!! Wow!"
Another echoed the same sentiments, writing, "I can't even begin to imagine what it must be like having a timeless icon like Sophia Loren for a mother-in-law."


Another person complimented Alexander, commenting that she looked gorgeous and adding that her mother-in-law still looked "stunning as ever."
"Gorgeous photos, and how amazing does Sophia look!" wrote one follower alongside a heart emoji. "Sophia looks beautiful," said one social media user.

Someone else noted Alexander, who starred in "Dawson's Creek" with Katie Holmes and Chad Michael Murray, should count her lucky stars, penning, "You should be so happy to have such an iconic Woman in your life! Sophia," alongside a blue heart emoji.