Even if you are James Bond, watching your child graduate from college is an emotional moment for every parent.
Over the weekend, Pierce Brosnan attended his youngest child's college graduation, and it appeared that the entire family was thrilled with the event.
Read on to discover more.
In order to celebrate their youngest son Paris on his graduation from Loyola Marymount University in Los Angeles, Pierce Brosnan and his wife Keely Shaye Smith used social media.
The joyful parents are the proud parents of two sons, Dylan, 26, and Paris, 22.
The English actor was dressed in a blue suit, a white shirt buttoned up, and stylish glasses. Smith was decked out in a pink lace dress, an off-white coat, and large sunglasses that framed her face.
Together with her son, who was dressed in his cap and gown for graduation, she was wearing Hawaiian leis.
Brosnan posted a sweet snapshot from the occasion on his Instagram and wrote in the caption, 'Dearest Paris, Heartfelt congratulations on your graduation from Loyola Marymount University School of Film & Television.'
He tells his son to "go into the world with a brave heart and create stories that will make the world a better place" in the caption.
Smith, the mother of Paris, also shared her feelings about her youngest kid graduating on Instagram. Both parents were 'proud' of their son, she said, and they both urged him to 'Go forth and do good things. Dream big; a man becomes what he imagines.
The young graduate posted pictures of his special day on social media as well. He simply titled his post, "The graduate."
In 2020, his older brother received his degree from the School of Cinematic Arts at the University of Southern California. Dylan is a model and musician.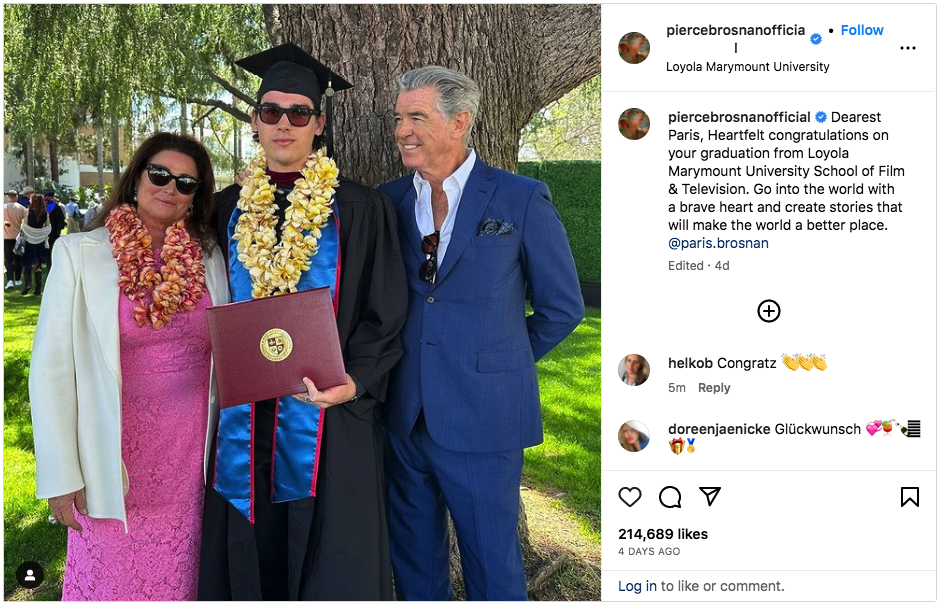 An exhibition of Paris' art titled "The Company We Keep" was held earlier this month at the Robina Benson Design House in Los Angeles.
The exhibition featured pieces by other artists, including Alexandria Hilfiger and Nikki Haskell. Kipton Cronkite, an art advisor, selected the piece.At the event arranged for the show, both proud parents were there.
The Brosnan family is very loving and close-knit. They have our congrats on the college graduation of their youngest! Be sure to forward this to other Pierce Brosnan admirers.