The abrupt death of Lisa Marie Presley may have caused the public to gradually move on, but it is understandable that her friends and family are left with a huge vacuum in their life.
After being brought to the hospital in complete cardiac arrest on January 12, the only child of the renowned Elvis Presley passed away.
Lisa Marie was discovered unconscious in the toilet by the housekeeping. Danny Keough, her ex-husband, gave her CPR until rescuers could arrive.
Lisa Marie Presley's passing was confirmed by her mother, Priscilla Presley, in a statement:
"It is with a heavy heart that I must share the devastating news that my beautiful daughter Lisa Marie has left us. She was the most passionate, strong and loving woman I have ever known."
Riley Keough, Lisa Marie's daughter, shared a touching tribute to her mother on social media after she passed away. The post featured a picture of Riley and Lisa from their earlier years together along with a simple heart emoji as a comment.
One can only image the barrage of feelings Riley is presently experiencing, and it's possible that her decision to leave blank space on her post is merely a reflection of the fact that Riley isn't yet prepared to discuss her mother's sudden passing.
The 33-year-old shared the final snapshot she ever took with her beloved mother earlier this week in a new Instagram post.
She wrote: "I feel blessed to have a photo of the last time I saw my beautiful mama. Grateful @georgieflores took this."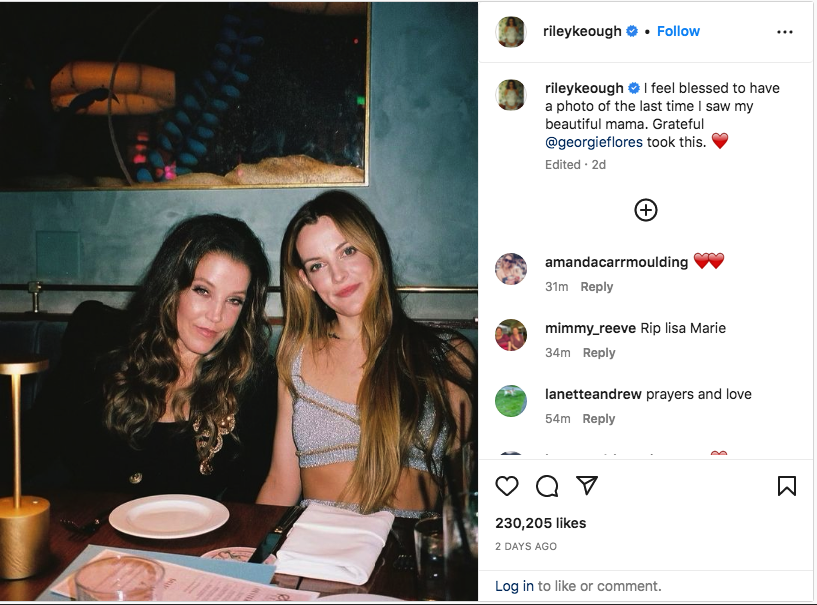 Lisa Marie attended the Golden Globes the day before she passed away, when she saw Austin Butler win the Best Actor in a Dramatic Motion Picture honor for his performance as Lisa Marie's father in Elvis."I really didn't know what to do with myself after I saw it," she recalled of Baz Luhrmann's biopic of her father's life.
"I had to take, like, five days to process it because it was so incredible and so spot on and just so authentic that, yeah, I can't even describe what it meant."
Riley attended a memorial service at the renowned Graceland in Memphis, Tennessee, over the weekend along with a large number of Lisa Marie's friends and family members. Ben Smith-Petersen, Riley's spouse, gave a eulogy Riley had written to her late mother during the gathering.
"I'm going to read something Riley wrote," Ben said before reading her prepared words, titled "A Letter to My Mama."
"Thank you for being my mother in this life. I am eternally grateful to have spent 33 years with you. I am certain I chose the best mother for me in this world, and I knew that as far back as I can remember you," Riley wrote. "I remember everything. I remember you giving me baths as a baby. I remember you driving me in my car seat, listening to Aretha Franklin. I remember the way you'd cuddle me when I'd come to your bed at night, and the way you smelled.
"I remember you taking me for ice cream after school in Florida. I remember you singing to me and my brother lullabies at night, and how you'd lay with us until we fell asleep.
"I remember how, every time you'd leave town, you'd bring me a new tea set from Cracker Barrel.
"I remember all the notes you'd leave in my lunchbox every day. I remember the feeling I'd get when I'd see you picking me up from school, and the way your hand felt on my forehead. I remember how it felt to be loved by the most loving mother I've ever known. I remember how safe it felt to be in your arms. I remember that feeling as a child and I remember it two weeks ago on your couch.
"Thank you for showing me that love is the only thing that matters in this life. I hope I can love my daughter the way you loved me, and the way you loved my brother and my sisters.
"Thank you for giving me strength, my heart, my empathy, my courage, my sense of humor, my manners, my temper, my wildness, my tenacity," the piece continued.
"I am a product of your heart. My sisters are a product of your heart. My brother is a product of your heart. We are you, you are us, my eternal love. I hope you finally know how loved you were here. Thank you for trying so hard for us. If I didn't tell you every day, thank you."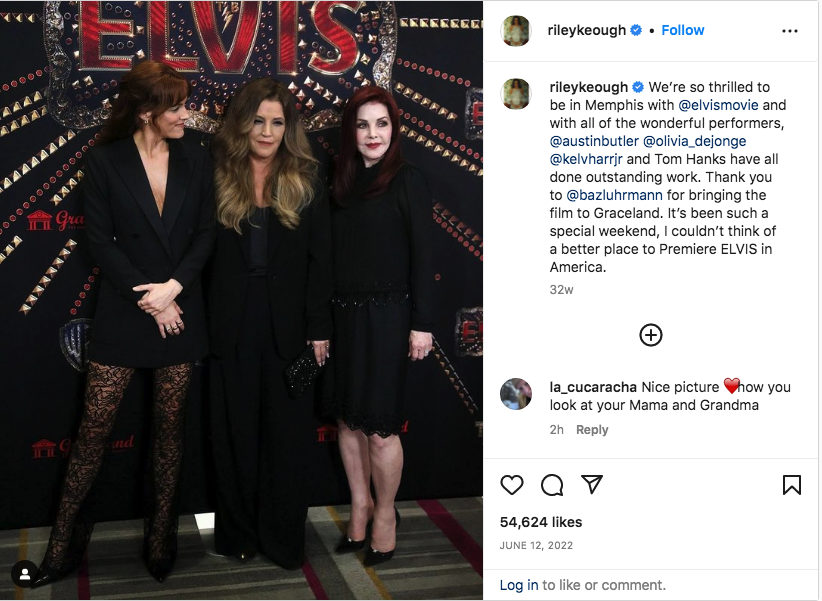 Fans may find comfort in the thought that Lisa Marie has now been reunited with her cherished baby Benjamin, despite the fact that her passing is undoubtedly heartbreaking and caused a worldwide outpouring of grief.
In 2020, Benjamin, Elvis' grandson, committed suicide at the young age of 27, and Lisa Marie's life was unavoidably altered by his death.
Lisa Marie was buried alongside her son over the weekend at Graceland. Now, it's believed that the two are sitting next to each other in the Meditation Garden at Elvis' fabled home.
Rest in peace, Lisa Marie Presley.
Please share this article on Facebook to send love and support where they're needed just now.