Former Army Specialist Ken Wyrsch made a peculiar friend while he was stationed at an army facility in Iraq back in 2016. One day while at work, he noticed a street dog nearby.
It was discovered to be a stray mutt, and an especially brave one at that. After the dog entered the army station, nothing more could be done.
The dog, who was then a puppy, captured Ken's heart right away, and it didn't take long for him to win over the hearts of all the other soldiers as well.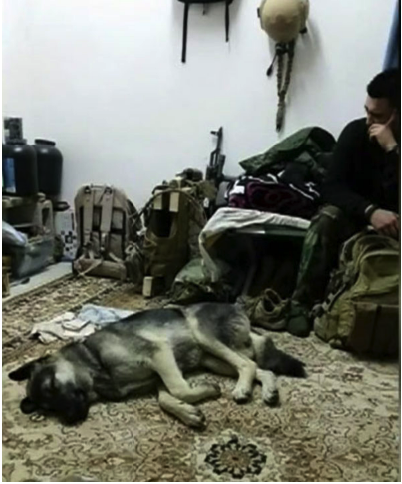 The dog was named Ollie, and Ken raised him as though he were his own.
Ken was pulled to Ollie the instant he stepped onto the base. He simply realized in that moment that he couldn't keep letting this dog suffer on the streets.
Ollie was taken under Ken's wing. Soon after taking good care of him and providing him with plenty of food, Ken began to rule over Ollie. Ollie, who had fortunately inherited his new best friend, was obviously ecstatic.
A Loyal Friend
Ollie loyally awaited Ken every time he was gone on a mission, wagging his tail enthusiastically upon seeing him again.
"He was like a morale booster," Ken remarked.
"He was there when we left our missions, he was there when we got back," Ken mentions.
Ken and Ollie bonded and they became closer and closer as Ollie grew up. Ken made sure to spend as much time as possible with his best friend.
Sad Separation
But the moment eventually arrived for Ken to depart. Ollie would lose his friends and wind himself back on the streets because the entire base was being shut down. Ken was devastated.
Because Ollie was such a nice and loving dog, and because he lived in a country where attitudes toward street animals were not positive, he worried that he wouldn't make it through the difficult life of a street dog.
The Only Right Thing
Ken simply couldn't let that happen.
"You never leave a friend behind," Ken explained. "Can't do it."
When he returned home, he immediately enlisted the help of the SPCA International to see if they could raise the funds needed to get Ollie sent to his home in California.
And it worked! In May 2016, thanks to generous donations, Ollie arrived in the USA.
Watch the video below revealing the moment Ollie and Ken are reunited. Grab a tissue, this is one of the most heartwarming reunion videos you will see today...
Share this wonderful story if you agree this soldier has a heart of gold and to wish Ollie the best of luck with his new life in America!