One of the most significant pro wrestling personalities of his period, "Superstar" Billy Graham, has passed away at the age of 79.
Former Heavyweight Champion and Hall of Fame wrestler Graham was renowned for both his remarkable physique and his flamboyant, charismatic style, which had a significant impact on wrestlers who came after him.
"WWE is saddened to learn that WWE Hall of Famer 'Superstar' Billy Graham has passed away," WWE said in a statement. "A former WWE Champion, Graham's flashy fashion style, over-the-top interviews and bodybuilder physique created the archetype for a generation of Superstars that followed in his footsteps."
Graham had been in the hospital for over four months, battling an infection in his ears, skull and sinus cavity, his family said. On Monday, doctors wanted to remove him from life support, though his wife refused.
"He's a fighter and his will is strong even if his body isn't. God is our hope," Graham's wife Valerie wrote. Graham died two days later, on May 17.
Graham, real name Eldridge Wayne Coleman, was born on June 7, 1943 in Phoenix Arizona. He got his start as a professional bodybuilder, becoming a close friend and training partner of future movie star Arnold Schwarzenegger.
He achieved fame as a professional wrestler, developing the flamboyant and charismatic persona of "Superstar" Billy Graham. His chiseled bodybuilder physique and flamboyant costumes made him stand out, and he was also known for his handlebar mustache.
Graham achieved fame in the late 1970s in the WWWF (now the WWE). In 1977, he defeated Bruno Sammartino to become the federation's Heavyweight Champion, a title he held for 9 months.
Graham was well renowned for giving colorful interviews consisting of bombastic trash talk and catchphrases, which made him a fan favorite. However, Graham's most enduring impact was his magnetic personality.
He established much of the flamboyance and individual flair now typical of professional wrestlers. For example, he is renowned for coining the term "brother" in his promos, which has since been adopted by numerous wrestlers, most notably Hulk Hogan.
"If it wasn't for Billy Graham, this industry would be so much different than it is," said Dave Meltzer of Wrestling Observer Newsletter. "He became the prototype of what people thought could be the charismatic superstar."
Graham has influenced a number of well-known wrestlers, including Hulk Hogan, Steve Austin, Jesse Ventura, and Ric Flair.Professional wrestling had a negative impact on Graham's health; he need hip surgery and retired in 1987. After being honored with a WWE Hall of Fame induction in 2004, he returned to the company in 2015 on a Legends Contract.
Throughout his career, Graham cautioned other wrestlers about the dangers of steroid use and had numerous disagreements with Vince McMahon, the executive chairman of the WWE.
Following Graham's passing, numerous professional wrestlers sent their condolences and recognized him as a legend and an inspiration for others who came after him.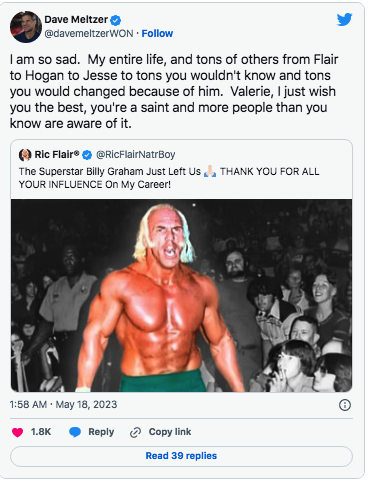 "The Superstar Billy Graham Just Left Us 🙏🏻 THANK YOU FOR ALL YOUR INFLUENCE On My Career!" wrote Vic Flair.
"I am so sad. My entire life, and tons of others from Flair to Hogan to Jesse to tons you wouldn't know and tons you would changed because of him," wrote wrestling reporter Dave Meltzer. "Valerie, I just wish you the best, you're a saint and more people than you know are aware of it."
"SUPERSTAR BILLY GRAHAM. ONE OF MY FIRST TEACHERS OF THE HEAT. THE REAL LEGEND BUBBA," wrote retired wrestler The Iron Sheik. "HE LOVE ME I LOVE HIM. TOGETHER WE HIT THE GYM AND SHOCK THE EARTH. I LOVE YOU FOREVER BROTHER. RIP"
Billy Graham, a legendary Superstar who had a significant impact on all subsequent wrestlers, may you rest in peace.
Please share this story in memory of this great wrestling superstar.