The iconic Top Gun movie catapulted Tom Cruise to stardom.
But the woman who starred as his love interest in the movie, Kelly McGillis, went down a wholly different path.
Today, it's hard to recognize the 65-year-old actress – she's faced a lot of age shaming over the last few years…
I don't think I was the only one who couldn't help but think of Kelly McGillis when I went to the cinema to watch Top Gun: Maverick, the sequel to the classic 80s film. I knew that she wouldn't appear – but somehow, I still hoped that I would get to see her.
Obviously, McGillis never showed up, while Tom Cruise and Val Kilmer reunited in a very emotional scene. According to McGillis, she wasn't asked to join the cast. In 2019, Entertainment Tonight wondered if the filmmakers of Top Gun: Maverick had offered her a role in the sequel.
"Oh my god no. They did not, nor do I think they would ever," McGillis said,
"I mean, I'm old and I'm fat, and I look age-appropriate for what my age is, and that is not what that whole scene is about."
However, the 65-year actress didn't seem to care about being left out of Top Gun: Maverick, which became the smash blockbuster movie of 2022.
"I'd much rather feel absolutely secure in my skin and who and what I am at my age, as opposed to placing a value on all that other stuff," she said.
The truth about her character in Top Gun
In the eighties, McGillis was one of only a handful of women who could command million-dollar fees. In Top Gun, the well-known actress starred as the astrophysicist and training school instructor Charlie Blackwood.
The blonde, long-legged, beautiful actress made a lasting impression as Maverick's love interest – her brainy-but-gorgeous character became iconic.
"I don't think anything prepared me for what I guess was becoming a household name kind of thing," McGillis said told LA Times.
"It was really intimidating to me. I don't aspire to be famous. I just aspire to be an actress, and that movie kind of startled my reality in a big way. I got very insecure. I didn't know who I could trust to be my friend anymore."
Charlie was actually based on another iconic person – Christine Fox. Fox was a famous civilian flight instructor and mathematician who the producers met while doing research for the movie.
She would later have an impressive career at the Pentagon – Fox became Acting Deputy Secretary of Defense, the highest post ever held by a woman at the Department of Defense.
How Kelly McGillis got the role of Charlie was a bit of a coincidence. She was scheduled to do another movie, but it fell through. Paramount called her and asked if she could do Top Gun instead, McGillis liked the script and then drove to San Diego for the production.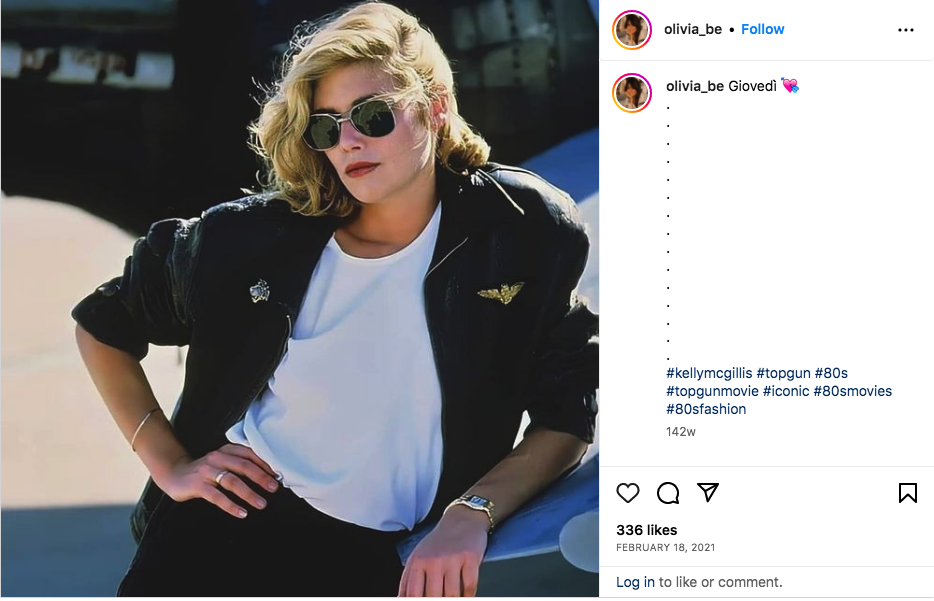 "I felt it was a Western in the sky. I had no clue how visually impeccable it would be. I think Tony Scott brought so much to that movie visually," she said.
Her role in Top Gun turned McGillis into a sex symbol, but she was also hailed for her screen performance. The on-screen chemistry with Cruise was obvious, and Kelly really liked her co-star off-set as well.
"I think Tom is terrific. He's the sweetest guy. He is very genuine and sincere and respectful. And I just loved working with Tom. I think he is wonderful," she said.
At the time, McGillis was compared to great screen beauties like Grace Kelly, Ingrid Bergman and Lauren Bacall.
But Kelly could never take that comparison seriously.
"I have never thought of myself as a great beauty. In my teen-age and prepubescent years when one forms one's ideas of oneself, I think primarily I was very over-weight and had a very low self-esteem," she told Intelligencer Journal in 1986.
Turned her back on Hollywood
Although I and many others remember McGillis for her role as Charlie in Top Gun, it wouldn't be fair to her to only talk about that movie – because she has done so much more in her life and career.
She stormed Hollywood in 1985 with her breakout role, portraying an Amish widow in Witness. After her success with Top Gun, she starred in the controversial film The Accused, playing a tough lawyer. McGillis was then cast in several television and film roles throughout the 1990s, but none of the films bolstered her career.
After that, the outspoken actress broke all the rules and turned her back on Tinseltown. She refused to do the scripts she was given, she cut her blonde hair, left Hollywood, had babies, and piled on the weight.
"I think just my priorities in life changed. It wasn't like a major decision that I made to leave, it was just that other things became more important," she told Entertainment Tonight.
Kelly McGillis husband
After leaving Hollywood, she focused on her family and took time out to raise her now-grown daughters, Kelsey and Sonora.
Shortly after The Accused premiered, McGillis fell in love with Fred Tillman – a man that had no connection to show business. But Fred and Kelly shared the same interests; they liked sailing and beaches.
Kelly, who was born in 1957 and grew up with sand between her toes in Newport Beach, California, felt like she had found the man of her dreams.
McGillis and Tillman tied the knot, bought a yacht, and sailed to Europe.
The family then settled down in Key West, Florida, and opened a restaurant together, called Kelly's Caribbean Bar & Grill.
But McGillis' past always seemed to catch up on her. According to the Top Gun star, she didn't go to Florida to escape – but she had a lot to deal with personally.
She drank too much, and was uncertain about her sexuality. For a year or so, she was a "wreck."
"I was never really unhappy. It is just that I wanted to reclaim my anonymity, to live my own life. I think that if you have children, it is you who should look after them. I didn't want my kids to think of me as a movie star, I wanted them to know me as Mommy," she told The Daily Telegraph in 1999.
Coming out
In 2002, McGillis divorced Tillman. Seven years later, she came out as a lesbian during an interview with SheWired. According to the actress, her coming out had been an ongoing process since she was 12.
"Life is a freaking journey, and it's about growing and changing, and coming to terms with who and what you are, and loving who and what you are," she said.
While McGillis was running her restaurant in Key West, she met bartender Melanie Leis. Sadly, their relationship was shaky and self-destructive; both had a problem with different substances and went into rehab. McGillis drank excessively.
Nevertheless, the partners in crime married in New Jersey in 2010. McGillis's ex-husband, Fred Tillman, attended the civil union ceremony.
"He was my greatest, bestest friend, and he still is," McGillis told Daily News, adding: "I was gay before I had kids. I had a really tough time coming to accept myself."
Kelly McGillis and Melanie Leis broke up in 2011.
Kelly McGillis today
As of now, Kelly is said to be living in a log cabin in the hills in Hendersonville, North Carolina. She wears her gray hair short and prefers the comfort of pants – enjoying her quiet, happy, and content life far away from Hollywood.
"I am concentrating teaching acting privately in small studio that goes with a school in Asheville, North Carolina. I feel it is my time to give back and that's something that I know how to do," she said in 2014.
Looking at McGillis today, it sure looks like she has given up her own acting career. It was a while since we saw her on-screen – her latest credited project is from 2018, when she starred in the TV movie Maternal Secrets.
"You hear women of my age talk about this all the time," she said. "I think this industry is not particularly kind to women who are over 50. I am not into the coloring of my hair, doing the Botox and getting a face lift. I want to grow up to be a character actress," she said in 2013.
As mentioned, Kelly appeared in the news a lot in 2022. Because of her absence on Top Gun: Maverick, people wanted to know what happened to her and why she wasn't cast in the sequel.
According to the director Joseph Kosinski, he wanted to take the film in a different direction with different characters – that's why Kelly was left out. It had nothing to do with her appearance, according to Kosinski.
Kelly McGillis will always be the hot astrophysics engineer to those of us who were there to see her in all her glory. A woman like her, in a movie like the original Top Gun, is an act that can never be followed. Period.
It takes so much more grace and beauty to leave such an industry to care for herself and prioritize her family. That's more impressive to me than anything.
Share this article on Facebook if you agree with me!