Al Roker experienced the shock of a lifetime when he opened his door to discover a large group of carolers, including members of his TODAY family, Monday.
Following the beloved weatherman's first broadcast appearance via Zoom since being taken to the hospital in mid-November due to blood clots in his legs and lungs, the poignant event happened just hours later.
Wednesday morning's TODAY broadcast the tender serenade.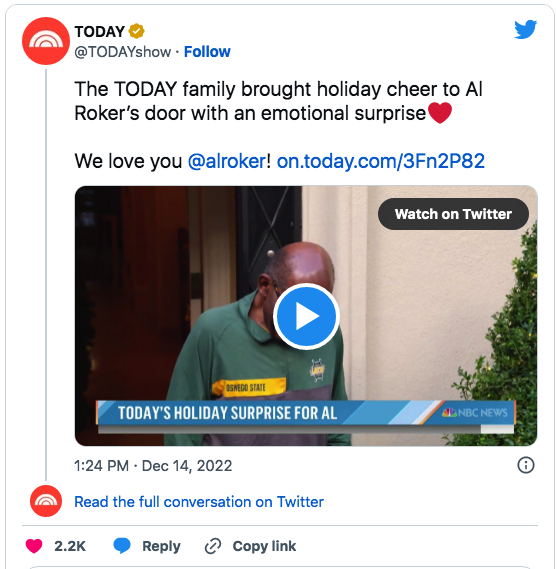 Soon after the 68-year-old stopped appearing on the morning show, fans were aware of it.
Roker shared on Instagram on November 18 that he was hospitalized in an attempt to explain his absence. "with a blood clot in my leg which sent some clots into my lungs."
"After some medical whack-a-mole, I am so fortunate to be getting terrific medical care and on the way to recovery."
His presence was especially missed during the annual Macy's Thanksgiving Day Parade. It was the first parade he missed in 27 years.
However, it was still a special day for Roker as he was released from the hospital just in time to enjoy a bit of the parade and Thanksgiving dinner.
Unfortunately, he didn't spend much time at home. After the holiday, Roker went back to the hospital where he had spent the previous few weeks.
He was unable to host the Christmas Tree Lighting at Rockefeller Center due to his second hospitalization.
He only recently made it back home.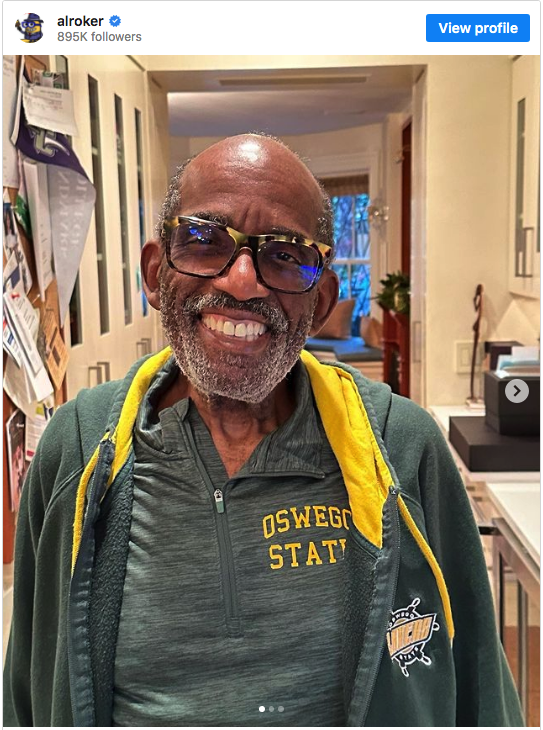 "Listen, it's been a tough slog. I'm not going to deny this," he said Monday during a video appearance on TODAY. "It's been the hardest one yet, and you know I've had my share of surgeries. It gives you a profound sense of gratitude for this outpouring of prayers and thanks. I'm a very fortunate person
Roker explained his sickly look and why he didn't plan on returning to his weatherman duties just yet.
"You lose a certain amount of muscle mass for every week you're in the hospital, and I was in the hospital for four weeks," he said. "It's just a certain amount of weakness. I'm doing physical therapy every day, occupational therapy. I've got to just get my strength back."
Despite his health issues, he said "I feel good, I feel strong, and every day I feel a little bit better."
While well thoughts and prayers have been sent from fans throughout the nation, his TODAY family decided to cheer him up by surprise him at home with their own versions of "Jingle Bells" and "I'll Be Home for Christmas"
Al Roker was serenaded in front of his New York City home by Hoda Kotb, Savannah Guthrie, Dylan Dreyer, Sheinelle Jones, Craig Melvin, Jenna Bush Hager, and numerous other TODAY team members. Dreyer has been filling in for Roker.

"It was one of the most heartwarming moments I think (for) all of us," Guthrie said of the moment. "Everybody was in tears, and it was just beautiful and so wonderful to see him."
"It's impressive you did that without a prompter," Roker joked. But then he got serious and thanked everyone for their support during the past several weeks.
"I've missed you all so, so very much, all these faces," he said. "It just means the world to me and to our family and my Deborah, who's just been my rock. I thank you so much. I really appreciated it."
We miss you Al! We're all rooting for you and can't wait to see you back on TV.
Please share and send your well wishes and prayers to Al Roker.