Tom Sizemore's family has released a heartbreaking update on his condition following the actor's brain aneurysm on February 18 (Saturday).
According to accounts, the 61-year-old lost consciousness at his Los Angeles home and was taken to the hospital shortly after.
Sadly, Sizemore's manager has acknowledged that his family is "deciding on end-of-life matters" following the doctors' diagnosis that "there is no further hope."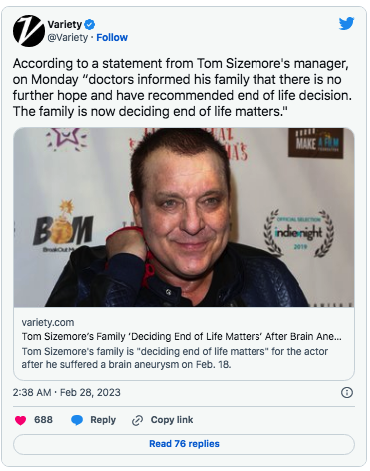 The statement reads: "In the early hours of Saturday, February 18, Tom Sizemore collapsed at his Los Angeles home and was transported to a hospital by Paramedics. He was found to be suffering from a brain aneurism that occurred as a result of a stroke.
"Since that day, Tom has remained in critical condition, in a coma and in intensive care."
It continues: "Today, doctors informed his family that there is no further hope and have recommended end of life decision. The family is now deciding end of life matters and a further statement will be issued on Wednesday."
The statement concludes: "We are asking for privacy for his family during this difficult time and they wish to thank everyone for the hundreds of messages of support, and prayers that have been received. This has been a difficult time for them."
Sizemore, perhaps best known for his roles in Saving Private Ryan and Black Hawk Down, posted an update to his Instagram page mere hours before his death – a throwback photo featuring the cast of Heat (1995).
Other notable actors in the picture included Robert De Niro, Val Kilmer, Danny Trejo, and Jon Voight.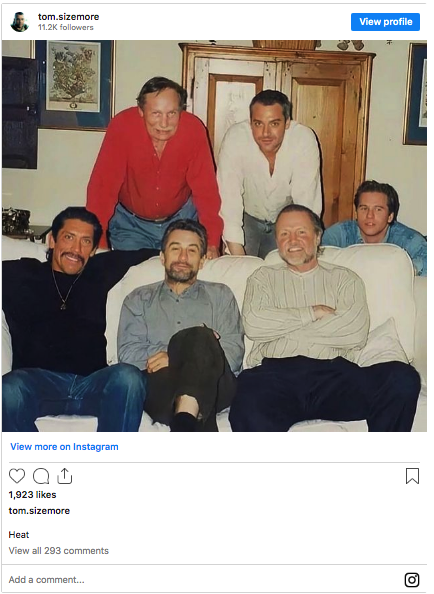 Sizemore has a distinguished acting career, but The Guardian says that he has long had legal issues. He was found guilty of domestic abuse in 2003 against his then-girlfriend Heidi Fleiss, and in 2005, he was given a jail term of several months after being discovered trying to forge a urine test.
The 61-year-old had previously been open about his battles with addiction and mentioned how Robert De Niro once paid for his stay at a recovery facility.
The suffering Tom Sizemore's family is currently experiencing is indescribable. All we can do is send them our prayers and love.
Please Share this article to show your support.